Charlotte Edwards Maguire, 1918-2014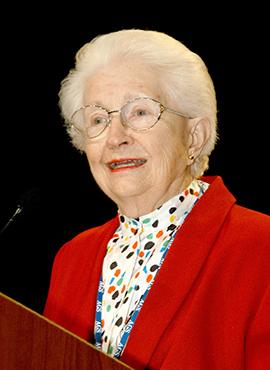 ×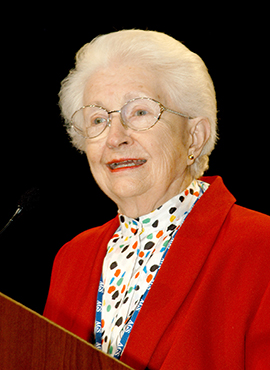 December 2014
Charlotte Edwards Maguire, who went from long-distance operator to pioneering female pediatrician to citrus-grove manager to government official to key supporter of the Florida State University College of Medicine to Great Floridian, died Dec. 6. She was 96.

The medical school's library is named for her. So is its Center for Clinical Simulation, home to mechanical patients that help give medical students invaluable hands-on experience. So is a professorship in the school's Department of Geriatrics. So are numerous College of Medicine scholarships. She also helped stimulate the development of the FSU Center on Innovative Collaboration in Medicine and Law.

Those are just a few of the countless products of her boundless generosity toward Florida State.

"She was loved, admired and respected by all who were lucky enough to know her. Her early and vocal support of the College of Medicine helped make this experiment in medical education happen," said John Fogarty, M.D., dean of the medical school, which emphasizes apprentice-style learning, patient-centered care, a diverse student body and service to the medically underserved.

Maguire gave much more than just money, Fogarty said.

"She faithfully attended most of our graduation and White Coat ceremonies when her health allowed, and it was wonderful to see our students interact with her," he said. "She served repeatedly as a panelist at student events on pediatrics and women in medicine."

Maguire loved her time with the students, said Barbara Shearer, former director of the medical library and a close friend of Maguire. 

"Charlotte was a role model, plain and simple, yet not plain and not simple," Shearer said. "I wish I could take Charlotte back to the medical school she first entered so many years ago and have her meet the younger version of herself, in a crisp white coat, with the world thrown open for her to explore. But Charlotte would never go back since she moved in only one direction, forward."

As a pediatrician, Maguire focused on children with disabilities. Later in life, she changed her focus to the other end of the age spectrum, but with many of the same issues.

"Dr. Maguire was the quintessential physician," said Ken Brummel-Smith, M.D., who holds the Charlotte Edwards Maguire, M.D., Chair in Geriatrics at FSU. "She would often express alarm that physicians today 'don't examine people!' She would always want assurance that we are teaching our students to sit down and listen to the patients' stories, and put their stethoscopes to the patients' chests."

In June 2013, Gov. Rick Scott presided over a ceremony at which Maguire was declared an official Great Floridian. He praised her for her active involvement with students, her advocacy for access to primary health care and her status as a role model for older Floridians' quality of life.

In reply, during a 10-minute address that even recounted a visit with Queen Elizabeth, a clearly delighted Maguire said she began life as "a little girl with a parent who told me, 'You can do anything you set your mind to, but you have to work.' So I did work." She spoke of how her father had taught her to save a little money every week and had told her, "Whatever you amass in this world belongs to God. It's not yours. You need to give it before you die."

And so she did.
MEDICAL SCHOOL AND PRACTICE
Maguire was born in 1918 and grew up in Orlando.

The obituary in the Orlando Sentinel recounted this story: "In the early 20th century, a strict grandmother might have instructed her granddaughter not to play marbles with the boys. She may have cited the root of her concern: It was not lady-like. Such thought was typical for Charlotte Maguire's grandmother, a puritanical transplant from Indiana to Orlando to help her widowed son raise his young daughter.

"Naturally, she was distraught when Charlotte brought home an assortment of her own marbles. When Charlotte's father questioned their origin and doubted Charlotte had won them as she said she did, she challenged him to a game, which she won. 'She was breaking barriers before she was double digits in years old, I think,' said her stepgrandson Raymer Maguire III, of Maguire Lassman, P.A."
In the summer of 1937 Maguire was awarded a scholarship to study chemistry and physics at the University of Heidelberg, Germany. But her stay was cut short when the rumblings of what would become World War II grew louder and her father ordered her home.

Back in the States, she attended Memphis Teachers College. She worked her way through college as a third-shift long-distance operator for the phone company, where she tried to study or nap between calls. She earned her bachelor's degree in 1940.
She had decided to attend medical school. Florida didn't yet have one (the University of Florida's medical school didn't open until 1956, with her help), so she had to travel. She got her medical degree from the University of Arkansas, where she was the only woman in her class.

In those days, medical schools routinely rejected applicants simply because they were female. Maguire said she remembered sneers, hurtful comments and, sometimes, downright hostility from faculty members daunted by her venturing into the male bastion of medicine.

"They were resentful," she recalled in a 2004 interview. "They didn't want to talk about male problems and illnesses in front of a woman."

Despite the obstacles, she graduated with her M.D. in 1944. She returned to Orlando to serve on the medical staff of Orange General Hospital, and in 1946 she became the first woman in Orlando to establish a private practice in pediatrics. The local newspaper greeted the news with this headline: "Orlando's first girl doctor returns."

She operated her practice for 22 years. From the beginning, she provided free services to those in need. And she took a special interest in children with disabilities.
FAMILY LIFE, BUSY LIFE
In 1948 came a huge change in her personal life: Charlotte Edwards became Charlotte Edwards Maguire. She married Raymer Francis Maguire Sr. (1890-1960), a well-known member of the Orlando community.

He had attended the University of Florida, where he was student-body president in 1914-1915 and graduated in 1915 as a member of the first Honor Graduate Law School class. After graduation, he practiced law but also pursued other business ventures, including citrus farming and land development.

Upon his death in 1960, while still maintaining her pediatric practice, Dr. Maguire assumed management of the family business, driving an hour to and from Lakeland for evening classes in citrus grove management. She also earned a real estate license to help with the family business.

Her achievements are far too numerous to mention — and took up 61 lines in Who's Who in the World 2009-2010. Among them: first female president of Florida Pediatric Society; delegate to World Health Conference in London, working directly with Prince Phillip; chief of department of pediatrics at Mercy Hospital in Orlando; assistant secretary of health and scientific affairs for U.S. Department of Health, Education and Welfare; assisted in creation of Florida Department of Health and Rehabilitative Services; honored with life membership in Florida Medical Association; named International Woman of the Year by International Biographical Centre in Cambridge.
A GIFT FOR PIMS
To a grateful Florida State University, Maguire is known primarily as an unbelievable source of personal and financial support, totaling nearly $4 million in donations to the College of Medicine. Even before FSU had a College of Medicine, she was investing in the future of Florida's medical education.

In 1999 she donated $1 million to create the Charlotte Edwards Maguire Eminent Scholar Chair in the Program in Medical Sciences (PIMS). Established in 1971, PIMS was a cooperative effort in medical education between FSU and the University of Florida College of Medicine. Each year, 30 students were selected for the program. Upon successful completion of a year of study at Florida State, they were guaranteed entry as second-year students in medicine at UF.

PIMS tried to recruit students likely to practice primary care in Florida, especially students from medically underserved areas of the state, as well as nontraditional and minority students. As of 1999, more than 60 percent of physicians who started in PIMS chose primary care — about double the national average. In 30 years, the program produced a demographically diverse group of more than 800 graduates.

"She was very much taken with the mission of PIMS," said Myra Hurt, then director of the program and later the first interim dean of the College of Medicine. She met Maguire at a lunch meeting two weeks before Maguire's gift was announced. "She knew how tough it was to be a medical student."

Maguire said PIMS was one of the few medical programs where students were exposed to a clinical setting in their first year, giving them an advantage in later years because of their skills in communicating with and understanding patients.

"I've always been patient-oriented, to make sure they have a direct line to care," she said then. "That's why I love this PIMS program. This is something pretty special. We hope there will be a lot of students who can attend, and we hope the university can start a second year as well."

The university did start a second year, and a third, and a fourth, thanks in no small part to Maguire.
BRAND-NEW MEDICAL SCHOOL
In 2000, she became an outspoken advocate for the creation of an FSU medical school that would follow the PIMS philosophy. That year, the Florida Legislature approved a measure to establish it.

Sandy D'Alemberte, then president of FSU, called Maguire "a pioneer for women in medical sciences and an inspiration for future doctors."

In 2002, Maguire received an honorary Doctor of Humane Letters degree in a ceremony in the College of Medicine's temporary administration building. In 2004, she reached for her checkbook again. She was inspired to donate when she learned of two prospective students, highly qualified academically, who wanted to stay in Florida and work with medically underserved patients. They seemed perfect for the College of Medicine. Problem was, other medical schools were trying to lure them by offering full-tuition scholarships that the new FSU school couldn't match.

So Maguire donated enough for two full-tuition scholarships.

"I hope that the recipients will be the ones that in the future will pick up the tab and help out when it's needed," she said at the time. "They should keep it in mind to do for their community what they can."

In 2005, in recognition of her support of medical education, the College of Medicine named its electronic library after Maguire.

"Dr. Maguire's generosity led to the creation of the model 21st-century medical library," said Martin Wood, library director. "With a focus on providing the most relevant electronic medical information resources at the point of need, Dr. Maguire's legacy lives on through those who benefit from the library each day."

When that crowd gathered in 2005 for the library-naming ceremony, Maguire wowed them with yet another surprise. She waved a dollar bill and announced that she was giving the College of Medicine an additional gift — of $1,000,001.

Why the $1? Because when a gift exceeded $1 million at that time, the state's matching amount increased from 70 percent of the total amount to 75 percent.

The new gift was earmarked for geriatrics.

"I am very invested in what the medical education program is doing, not only for the local community but for all of Florida," Maguire said that day. "In my opinion, it's the best medical school in the state, and I'm constantly impressed by both the faculty and students."

FSU was not the only beneficiary of Maguire's gifts. Starting in 1991, she lived at Tallahassee's Westminster Oaks retirement complex, where her generosity improved the residents' quality of life.

"Dr. Maguire was a much-loved figure at Westminster Oaks," Brummel-Smith said. "Her legacy is strongest through the hundreds of residents she befriended. But she also solidified that legacy with her generous donation to create the Maguire Learning Center, which now serves the whole Tallahassee community as a premier educational venue."

This remark from 2006 captures the spirit of Charlotte Maguire: "I want people to have opportunities like I have had — to just enjoy whatever they do."