Kaitlyn Odom Wins Exemplary Staff Award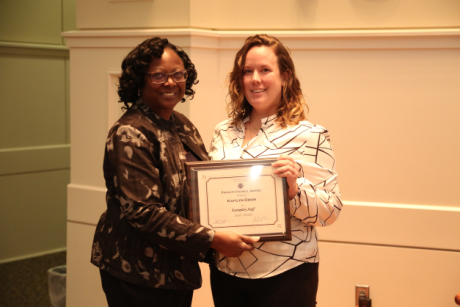 ×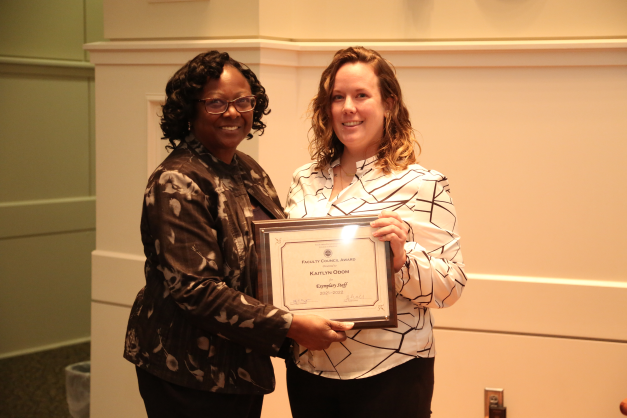 FACULTY, STAFF AWARDS FOR 2021-22 PRESENTED
The annual Florida State University College of Medicine Faculty and Staff awards were presented on Friday, November 7, 2022 in a lunch-time hybrid celebration in the Durell Peaden Auditorium and online.
Assistant Professor Heidi Kinsell chaired the Faculty Council Executive Committee (FCEC) and shared master of ceremonies duties with Assistant Professor Mike Drury. Awards were presented to outstanding faculty educators and researchers, Guardian of the Mission and Service, and exemplary staff. 
Our very own Kaitlyn Odom was presented with the Exemplary Staff Award.
Kaitlyn joined FSU in the Fall of 2014 and joined the Department of Family Medicine & Rural Health in the Fall of 2015. She moved away in the Spring of 2017 and returned to Tallahassee later that year, working in another FSU department. We were thrilled to be able to hire Kaitlyn back to our Department in the Summer of 2018. She has been with FSU for over seven years and with the Department of Family Medicine & Rural Health for five years now. Kaitlyn has proven to be an exceptional employee who goes above and beyond in providing superior staff support to our faculty cheerfully, with a smile, and with the best can-do attitude. She is versatile, creative, and resourceful and no task is beyond her capabilities. Kaitlyn is a very strong team member and can easily fill in for all other staff members and provide seamless faculty and Department support.
Kaitlyn earned her Bachelor of Science in Sport Exercise Psychology (Magna Cum Laude) from West Virginia University and her Master of Science in Sport Management: Sport Administration from Liberty University. Kaitlyn has a keen interest in lifelong learning and has completed many of the certification programs offered by FSU, remaining engaged and furthering her professional development, all of which benefits the College of Medicine and our Department as well.
We appreciate Kaitlyn's continuous exceptional service to the COM and to our Department and we could not be prouder of her winning this prestigious award.  
Congratulations, Katie!!!