A Day in the Life of a Bear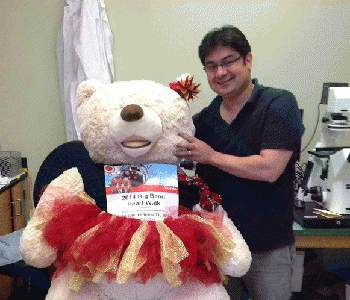 ×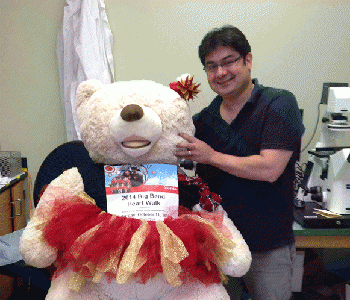 G.G.  (AKA Goldie Garnet) spent the day visiting with office staff, learning science in our labs, getting a check up from Dr. Littles, and meeting some of the researchers that receive funding from the American Heart Association. The 2014 Big Bend Heart Walk will be on Saturday, October 11 at Tom Brown Park. 

From the American Heart Association's website:
Did you know that cardiovascular disease is the No. 1 killer of all Americans? In fact, someone dies from CVD every 39 seconds! Heart disease also kills more women than all forms of cancer combined. And congenital cardiovascular defects are the most common cause of infant death from birth defects.

The funds raised in the Heart Walk will support projects like these:
Putting up-to-the-minute research into doctors' hands so they can better prevent and treat heart disease among patients.
Groundbreaking pediatric heart and stroke research. About 36,000 babies are born with heart defects each year —research is the key to saving babies' lives.
Getting life-saving information to those who need it most – information that can save a life, like how to eat better, how to recognize the warning signs of heart attack, and how to talk to a doctor about critical health choices.