BMS hosts Integrated Cell Biology Program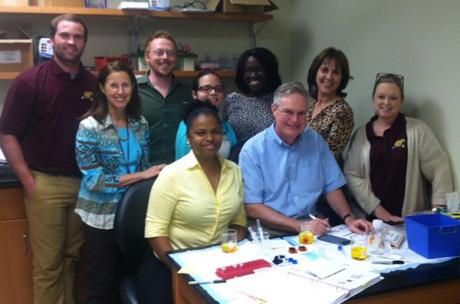 ×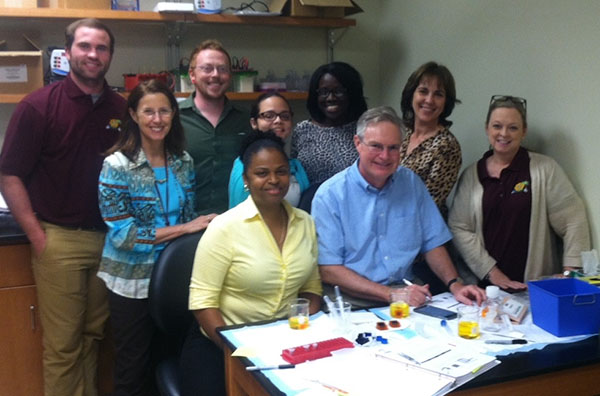 COM-BMS had the pleasure of housing Dr. Kerry Maddox's program, Integrated Cell Biology, for the past few months. FCR-STEM, a research center of Learning Systems Institute, received funding from Florida Department of Education to provide professional development to science and math teachers throughout the state in partnered districts. This project is called FCR-STEMLearn. In addition to Dr. Maddox's program, Integrated Cell Biology, there are also programs in physical science, earth systems science, diversity and ecology, algebra, and geometry. This past weekend, the seven trainers selected to provide teacher training for the summer gathered at the COM for two intense days of reviewing the curriculum and testing out the planned experiments for the summer. The Integrated Cell Biology Program will offer two training periods this summer, one in Tallahassee at FSUS, and a second one in Miami. The Summer Institute is divided into 6 units that cover topics in epidemiology, energy regulation, cellular transport, protein synthesis, neuroscience basics, and cancer. Congratulations to Dr. Maddox on her program and efforts, Rabieh Razzouk (PI on the MPS grant), and a special thanks to all who collaborated and offered a helping hand to Dr. Maddox and participants!
Pictured:
Top row - Zachery Cooley (FSU undergraduate intern, SOAR program), Kerry Maddox (Learning System Institute Cell Biology Lead), Martin Bremer (FSU graduate student, Science Education), Marjorie Miles-Dozier (Science Coach, Polk County School District), Marsha Samuels (Science Department Chair, Broward County School District), Beatriz Gonzalez (Professor, Santa Fe College, Gainesville).
Front row - Paulette Reneau (Asst. Professor, Biology, FAMU), Bryant Chase (Professor, Biology, FSU), Glenna Barber (Learning Systems Institute and CPALMS coordinator).