Alumni spotlight Q&A: Shermeeka Hogans-Mathews (M.D., '15)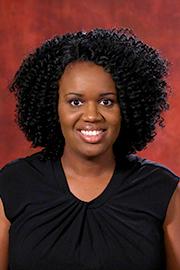 ×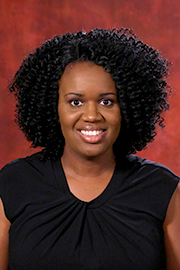 Nov. 13, 2018
The College of Medicine continues its Alumni Instagram Takeover Series on Tuesday, Nov. 13, with one of its own faculty members. Shermeeka Hogans-Mathews (M.D., '15) completed a family medicine residency at St. Vincent's Medical Center in Jacksonville and was chief resident. Hogans-Mathews was hired by the College of Medicine this summer for her expertise in family medicine and behavioral health. She and fellow alumna Mary Norton (M.D., '13) will be practicing at FSU PrimaryHealth when it opens next year.
You can read more about Hogans-Mathews, Norton and FSU PrimaryHealth on page 10 of the latest issue of FSU MED.
View her takeover on Instagram (@FSUCoM)
What initially drew you to the field of medicine?
I'm from Liberty County, and I became interested in medicine at age 14. I was the oldest of six children and would go with my mom to her obstetrical visits. After looking at all the pictures of babies on the wall and all the albums, I decided I wanted to deliver babies when I grew up. Then during college at 19, being a single parent on Medicaid and having difficulty obtaining care really fueled me and pushed me to want to be a physician – to try to make a difference and help other people who were like me.
Once I got a taste of how medicine works and how it can be unfavorable depending on your insurance status and socioeconomic status, that pushed me more toward primary care and family medicine.
Was academic medicine something you were interested in pursuing early on?
It's weird how everything came together. I was a high school teacher in Gadsden County. I taught AP chemistry and AP biology, and prior to that I had my own academic consulting and tutoring service. Even in high school I tutored, so I had that notion of being a teacher in me for quite a while. A year and a half or two years into residency, I started to become more interested in academics, resident teaching and things like that. But even then I thought it was something that would only be available to me years out in practice.
What has it been like to be back at the College of Medicine?
It's super exciting being back here. There's such camaraderie in the family medicine department and such excitement and love for the field of medicine. I feel really blessed to have found a position in academic medicine. The thing I like most about undergraduate medical education is that med students are so impressionable and energetic and enthusiastic.
Having the opportunity to play a role in the health of Tallahassee while also playing a role in the education of future clinicians is really the best of both worlds.