Dean Bentze inducted as AMWA Fellow
Apr 01, 2022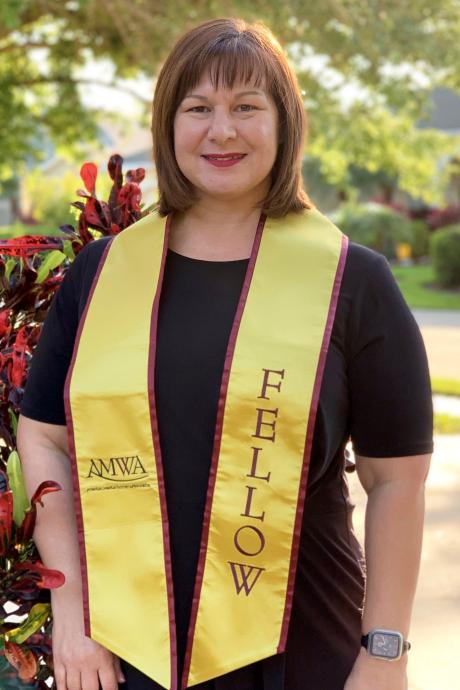 Nicole Bentze, D.O., dean of the College of Medicine's Sarasota Regional Campus, was inducted as a Fellow of the American Medical Women's Association (AMWA) at its 107th annual meeting in late March.
Alma Littles, M.D., senior associate dean for medical education and academic affairs at FSU, said the College of Medicine was fortunate when Bentze, among the inaugural faculty at the Sarasota Regional Campus, agreed to take on the role of clerkship director for family medicine, and later to accept the campus dean position.
"She is a strong role model and her students can be assured that she has their best interests at heart," Littles said. "Her leadership has been recognized at the college, state and national level. We are proud to see that AMWA has now recognized her outstanding achievements and leadership and has selected her as a Fellow of the American Medical Women's Association."
Bentze called it "a great honor" to be inducted as a Fellow.
"When you're named a fellow of any organization, it shows your commitment; it shows you really believe in the mission; and it shows you're going to continue to be involved," she said.
For the past five years, Bentze has served as the organization's governor for Region 4, which encompasses Florida, Georgia, North Carolina and South Carolina. During that time, she was able to coordinate with the leader of the medical student division to provide mentoring and guidance as it planned for its conference.
This year, she helped create a physicians' group at FSU among the College of Medicine faculty, which has already gained more than 20 members. There is a strong AMWA student chapter at FSU, as well.
"We hope to pair up with the student section for mentoring and events, as well as provide support for one another as women physicians," she said.
She credited Suzanne Harrison, M.D., director of clinical programs and a professor in the Family Medicine and Rural Health department, with getting her involved in AMWA. Harrison is a past president and currently serves as chair of the AMWA Fellowship Committee. Harrison was acknowledged at the meeting as the recipient of the 2021 INSPIRE award, which is announced in September during Women in Medicine month.
In 2019, Littles was awarded one of the highest AMWA honors, The Elizabeth Blackwell Medal, which is awarded to "a woman physician who has made the most outstanding contributions to the cause of women in the field of medicine." Blackwell was the first woman awarded an M.D. degree from an American medical school.
Because of the ongoing COVID-19 pandemic, the 2022 annual meeting was held virtually.