CHARTIER (M.D., 2024) A RECIPIENT OF KNAPP MEDICAL STUDENT AWARD
Sep 13, 2022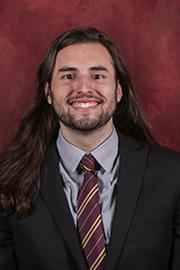 Marc W. Chartier, a third-year medical student at Florida State University's College of Medicine, is one of 15 medical students from across Florida to be honored as 2022-2023 recipients of the Dr. Robert C. Knapp Medical Student Award.
The award, established in 2011 by Hearing the Ovarian Cancer Whisper (HOW), an advocacy, educational and support group for ovarian cancer research and patient support, allows medical students to spend a minimum of four weeks with a gynecologic oncologist as one of their elective clinical rotations. Honorees submit a report to HOW about their experiences; they also receive a $3,000 cash award.
Chartier, a Sarasota native now studying at the Sarasota Regional Campus, majored in biochemistry and minored in chemistry as an undergraduate student FSU. He has long planned to focus on obstetrics and gynecology as a medical specialty and the Knapp Award will expand his training in the sub-specialty of gynecologic oncology.
"The state of women's healthcare and women's rights needs greater representation
and advocacy," he wrote in his College of Medicine student profile. "The stories of
poor healthcare outcomes for disadvantaged women of all ages and demographics are too myriad to list.
"My mission is to use medical education and the subsequent practice of medicine to directly influence clinic care in an obstetric and gynecologic setting, as well as shape healthcare policy in the legislative environment at the state and federal levels."
This year's recipients included medical students studying at the University of Florida, the University of Miami Miller School Medicine, the Florida International University Herbert Wertheim College of Medicine, the University of Central Florida College of Medicine, the University of South Florida Morsani College of Medicine, and the FSU College of Medicine.