Charles R. Mathews Geriatrics Scholarship Recipients' Research Published
Jan 03, 2017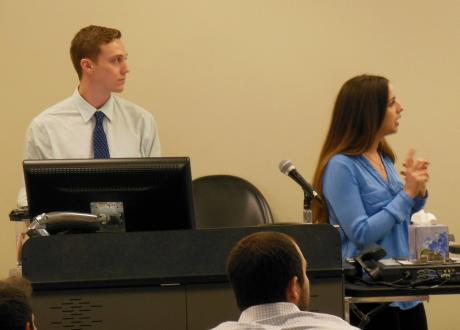 Through a generous donation from the late Charles R. Mathews, M.D., the Department of Geriatrics has been able to offer summer research scholarships to FSU students. In 2016, two of the recipients of this prestigious scholarship were FSU medical student Wyndham Bonett and FSU law student Katherine Perdomo.
Their research project, Assessment of Chronic Pain Curriculum in Florida Medical Schools, was advised by Center Director Marshall Kapp and assisted by Suzanne Baker, M.A. Research Program Director in the Department of Geriatrics. The results will be published in Florida Public Health Review, 2017; 14, 22-32. To view the article, click here.
On October 25, 2016, Wyndham Bonett and Katherine Perdomo presented their research at a HALO event on Prescribing Opioid Pain Medications.