16th Annual Research Fair
Start Date
Fri, 2/07/2020
Location
Florida State University College of Medicine Atrium
Event Sponsor
Division of Research & Graduate Programs
Description
The FSU College of Medicine Annual Research Fair, sponsored by the Division of Research & Graduate Programs, provides students, faculty and staff the opportunity to see the kinds of research happening in the College of Medicine. All researchers are invited present their work: Medical student researchers, graduate students, postdocs, residents, staff and faculty are invited to present posters. Medical students at regional campuses are also invited to present their research. The Research Fair provides medical students interested in applying for the Summer Research Fellowship Program the opportunity to get ideas on potential summer research opportunities. This is a great opportunity for all students and postdocs to present their work, even if the "story" is not quite complete.
The 16th Annual Research Fair will be held Friday, February 7, 2020 in the FSU COM Atrium. Posters are displayed throughout the day, with researchers at their posters from Noon to 1:30 pm to describe their projects and answer questions. Registration is required.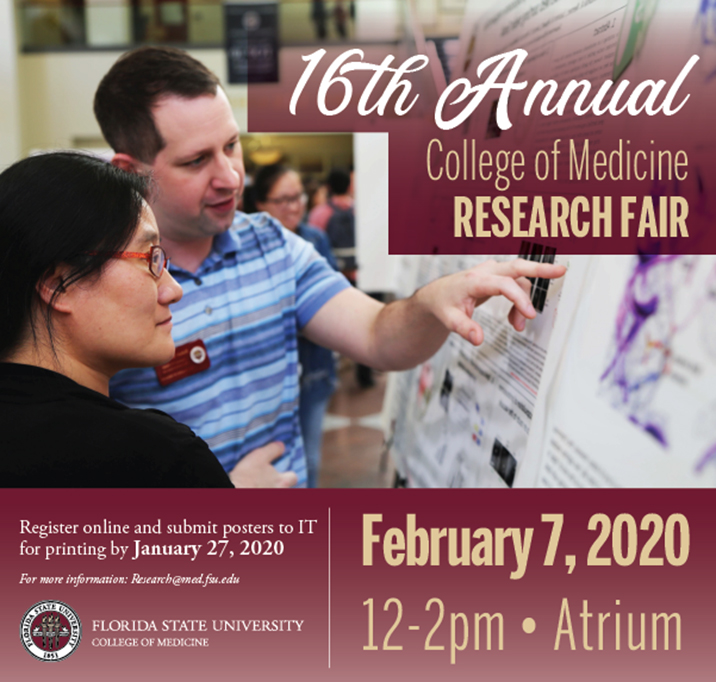 Add Event to Calendar
Fri, 2/07/2020 Noon
Fri, 2/07/2020 2 p.m.
Eastern
16th Annual Research Fair
---
Florida State University College of Medicine Atrium