"Substance Use During Pregnancy" - Samantha Goldfarb
Start Date
Fri, 9/28/2018
Location
University Center Building C - Room 5301
Event Host
FSU College of Social Work and the Center for the Study and Promotion of Communities, Families and Children
Introduction
"Substance Use During Pregnancy: Time for Policy to Catch up with Research" - Samantha Goldfarb
Description
Florida State University's Center for the Study and Promotion of Communities, Families, and Children (CFC Center) launches its inaugural research lecture series: "Engage, Inform, & Influence" this September.
The lecture series will start out with its first event entitled "Substance Use During Pregnancy: Time for Policy to Catch Up with Research," presented by Samantha Goldfarb, an assistant professor at the FSU College of Medicine and College of Human Sciences, on Friday, September 28th.
"One of the biggest barriers I think we face in the United States is that despite prevention, treatment, and policy efforts, we are still surrounded by stigma on substance abuse in this country. This is especially true for vulnerable, pregnant women who engage in substance abuse or are already addicted and most times don't even know they are pregnant." - Samantha Goldfarb
Goldfarb has a background in public health, with specialized training in health care policy research relating to maternal and child health issues. Her research focuses on understanding the impact of state health and drug policies on maternal and perinatal outcomes.
A small reception will follow the lecture. The lecture is free but pre-registration is requested and can be completed at the link below.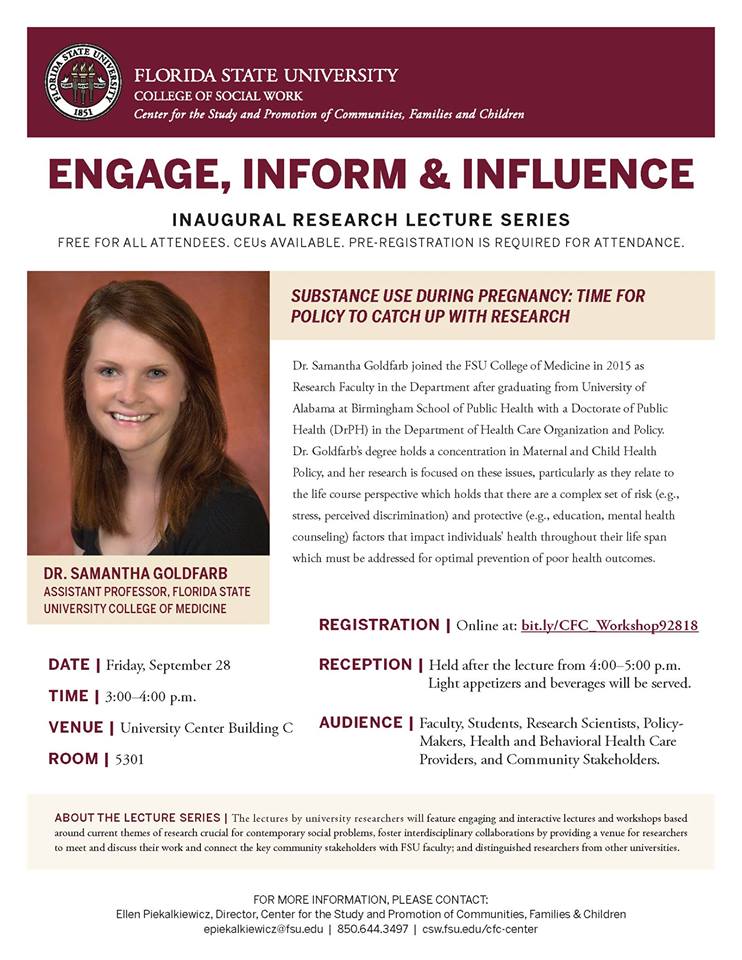 Contact Name
Ellen Piekalkiewicz (CFC Center Director)
Add Event to Calendar
Fri, 9/28/2018 3:00 PM
Fri, 9/28/2018 5:00 PM
Eastern
"Substance Use During Pregnancy" - Samantha Goldfarb
---
University Center Building C - Room 5301