Grand Rounds: Is Monkeypox the New Pandemic?
Start Date
Thu, 9/01/2022
Location
Durell Peaden Auditorium and virtually
Audience
Adults
Biomedical Graduate Students
Campus Faculty
Campus Staff
General Public
Longitudinal Faculty
New Clerkship Faculty
New Faculty
New Staff
Students
Event Host
Department of Behavioral Sciences and Social Medicine
Description
Dr. George Rust, director of the Center for Medicine and Public Health, will lead the session with the most updated information on the virology, epidemiology, prevention, and treatment of the orthopox virus, currently referred to as monkeypox. Dr. Jonathan Appelbaum, Dr. Daniel Van Durme, Dr. Faye Tinson, Dr. Raed Rizkallah, and community health leaders will make up the panelists, who will also entertain audience questions.

A Zoom link for those interested in participating virtually will be made available on the home calendar of the College of Medicine website prior to the start of the event. Online viewers may submit their questions to pr@med.fsu.edu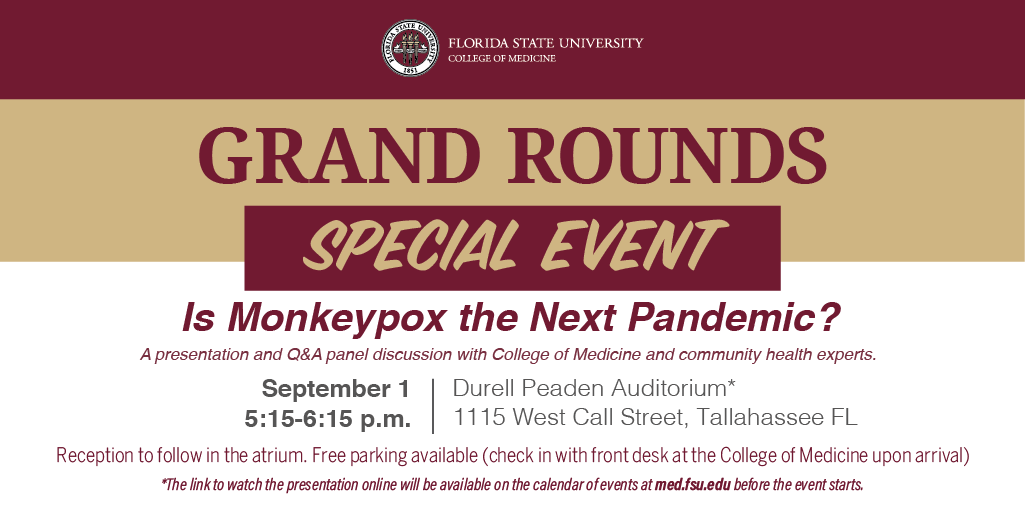 Add Event to Calendar
Thu, 9/01/2022 5:15pm
Thu, 9/01/2022 6:15pm
Eastern
Grand Rounds: Is Monkeypox the New Pandemic?
---
Durell Peaden Auditorium and virtually