FSU Medical Alumni Reunion
Start Date
Fri, 3/15/2019
City
FSU Medical Alumni Reunion
Description
Join us for the 11th annual
PIMS and College of Medicine Medical Alumni Reunion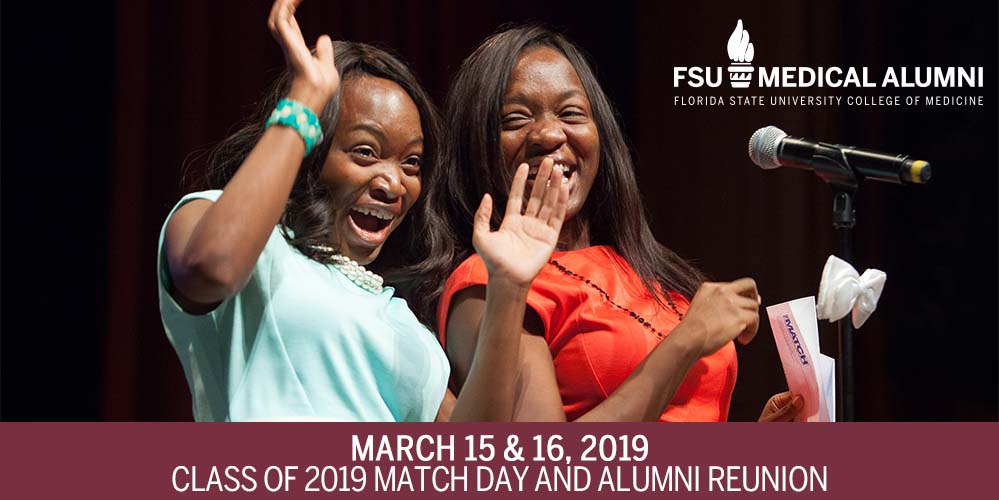 All alumni are welcome as we celebrate the
milestone years of our PIMS classes of '74,'79,'84,'89,'94 and 99;
and College of Medicine classes of 2009 and 2014.
To view reunion weekend schedule or to purchase tickets, please visit:  
Interested in serving as an Alumni Reunion Volunteer?
Volunteers will provide input to the alumni office about logistical decisions regarding hotels, venues and transportation. Class volunteers will first and foremost encourage classmates to attend. Depending on the number of RSVPs, the alumni office will assist volunteers in planning additional class-specific events, such as a group gathering at a local restaurant or hotel. Contact the assistant director of alumni relations at alumni@med.fsu.edu to learn more!
Current reunion class volunteers:
Class of 1974: Bruce Slater M.D. 
Class of 1994: Kimberly Toone M.D. and Darrin Willingham M.D.
Class of 2014: Angela Guzman M.D. and Lexie Mannix M.D.
Stay in the know!
Watch for periodic Medical Alumni Reunion emails from the College of Medicine with details about the weekend. If you aren't currently receiving those emails now, send your name and current email address to alumni@med.fsu.edu, call (850) 645-9428, or update your alumni profile information here.
Contact Name
Doug Carlson
Add Event to Calendar
Fri, 3/15/2019
Sat, 3/16/2019
Eastern
FSU Medical Alumni Reunion
---