FSU Medical Alumni presents Nicholas Seeliger, M.D. ('06)
Start Date
Fri, 10/14/2016
Description
 FSU Medical Alumni, in coordination with the Military Medicine Interest Group and Students Interested in Global Health, presents Class of 2006 alumnus Nicholas Seeliger, M.D.
Nicholas Seeliger, M.D., MPH is an Assistant Professor of Family & Community Medicine in the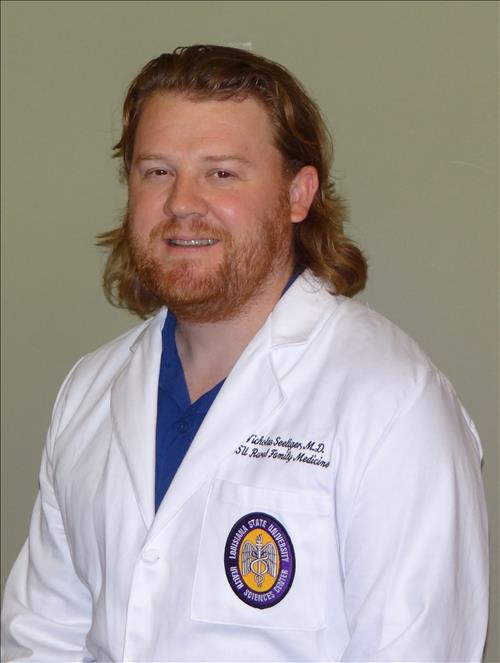 Rural Family Medicine Residency Program at Our Lady of the Angels Hospital in Bogalusa, LA. He is a graduate of Florida State University College of Medicine and completed his residency in Family Medicine at the Eglin Air Force Base Family Medicine Residency with an Area of Concentration in Global Health. He obtained his certification in Tropical Medicine from the Uniformed Services University of Health Sciences in Bethesda, Maryland. He obtained his International Diploma in Humanitarian Assistance (I.D.H.A.) from Fordham University in New York City, New York. He completed his Master's in Public Health with a certificate in Global Health from Johns Hopkins Bloomberg School of Public Health. Dr. Seeliger is certified by the American Board of Family Medicine.
Dr. Seeliger served in the United State Air Force from 2006 – 2013 with assignments in Florida, Turkey as well as Portugal. He was classified as an International Health Specialist and collaborated with the Peruvian Navy on humanitarian missions along the Peruvian Amazon in 2008. While serving at Incirlik Air Base, Turkey he was the Officer in Charge of the Personnel Reliability Program (PRP), the Department of Defenses nuclear weapons surety program. While serving at Lajes Air Base, Portugal he was the Clinical Medicine Flight Commander and was honored as the "Best Patient-Centered Medical Home" in the United States Air Force for 2012.
Dr. Seeliger has extensive international medical experience and has worked in Mexico, Haiti, Panama, Ghana, El Salvador, and Peru. In 2007, Dr. Seeliger formed the non-profit Healing Peru (www.healingperu.com) and leads medical humanitarian teams into the remote Peruvian Andes annually.
Contact Name
Chelsea Knott
Add Event to Calendar
Fri, 10/14/2016 12:00AM
Fri, 10/14/2016 1:00PM
Eastern
FSU Medical Alumni presents Nicholas Seeliger, M.D. ('06)
---
Classroom 1306