FSU CoM NCRT Continues Collaborative Efforts with the Daytona Regional Campus to Conduct OneFlorida Research Study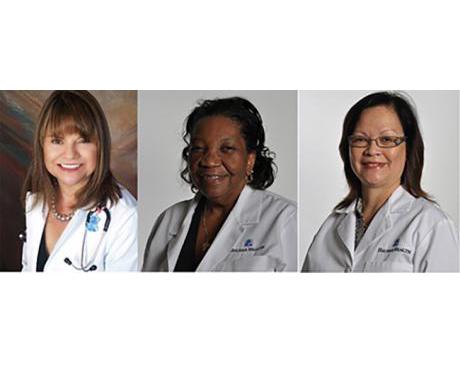 ×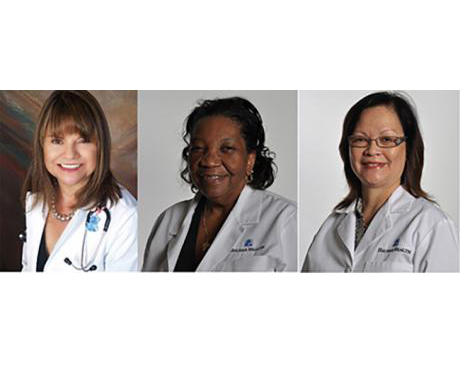 The FSU CoM Network for Clinical Research and Training (NCRT) continues to expand its practice base with more sites affiliated with the Daytona Regional Campus. In 2016, recruitment began for the OneFlorida HPV vaccination project (NCI-R21) – a four part research study designed to improve vaccination rates for HPV and the other adolescent vaccines using a health information technology (HIT) system. Two of the seven practices participating in this project reside in Volusia County.
Halifax Health's Keech Pediatric Neighborhood Care (Daytona Beach) and Volusia Pediatrics (New Smyrna Beach) have been instrumental in the progression of this research study. Andrea Thorpe, MD (pictured above, center) began her teaching role with FSU over 10 years ago, and she has served as the lead provider at the Halifax Keech site for this study's implementation. So far, the Keech team, including Dr. Carino-Caidic (pictured above, right), has participated in a workflow study, semi-structured interviews, and qualitative focus groups – all in support of the optimization of the iPad application and the associated clinic processes.
Volusia Pediatrics is led by Dr. Cristina Garcia (pictured above, left), who has been teaching FSU medical students since 2011. In addition to functioning as a control site for the HPV vaccination project, Dr. Garcia and her team previously participated in one of the FSU NCRT's pilot projects, "Sport-related Concussion Surveillance and Management."
The HPV vaccination project is currently entering the third phase of the study plan, where clinics will test the usability of the modified HIT system. Upon final modifications to the application based on the results of the usability testing, the feasibility  trial will launch. Data collection is anticipated to continue through 2018.