An eye-opening new way to read your magazine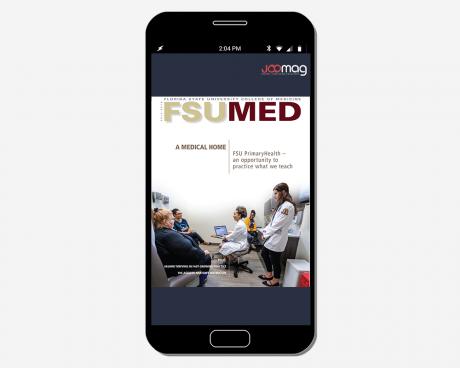 ×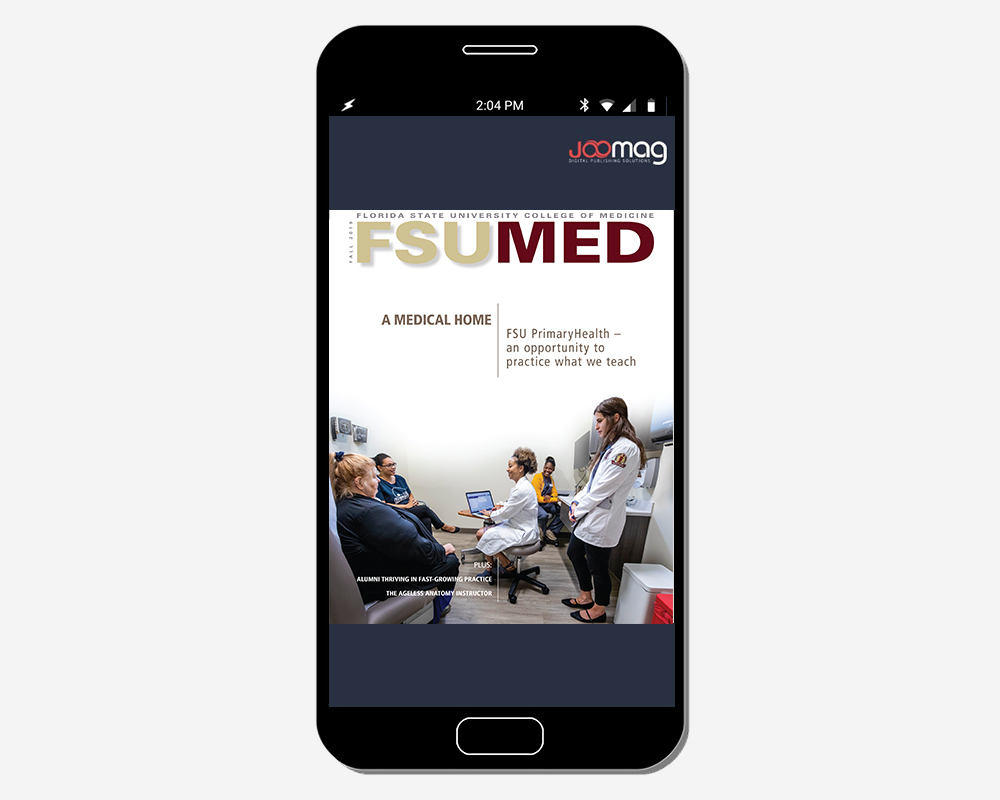 You probably think you don't need lessons in how to read a magazine – but the College of Medicine's magazine has changed. Thanks to gee-whiz technology, reading FSU MED is a whole new experience. 
For example:
•    If you're reading about FSU PrimaryHealth and regretting that you missed the ribbon-cutting, click on the bottom right corner of page 13 and the video will come to life.
•    If you're reading about our researchers' latest work and want to know more about their background, one click will take you to their online profile.
•    If you're reading about alumni Gary Visser and Adam Langley's practice in Ocoee, and turn to page 18, you'll see a slideshow of nine photos.
•    If you're reading the alumni updates and thinking, "I wonder where Gary Dana is practicing now," all you need to do is click on his name and instantly his info will appear.
•    If you're an alum reading page 26, feeling guilty that you haven't updated your own profile but telling yourself it's too much trouble, just click on the second paragraph of the "Share your news" story and, bingo, update away.
You get the point. Far be it from us to minimize the joys of picking up a smooth new magazine and savoring the sweet aroma of ink on paper. We here at FSU MED love print. The good news is that you don't have to pick one or the other. You can enjoy both. Read FSU MED when it arrives in the mail. Then, when you're finished, go online and see what other treasures await you in the digital version. 
Each time you turn a digital page, the so-called enhanced material will glow – alerting you to something you might want to check out. 
Of course, technology works only if someone knows how to harness it. On our little communications staff, we salute Melissa Powell for knowing how to hide loads of extra content in every nook and cranny. 
We were going to list everything you'll find in this magazine, but the list was too long. So here's a summary: 31 stories, 101 alumni profiles and 38 Match Day photos (37 of which are tiny on the printed page but can magically expand in the digital version).
The magazine's three main features focus on the birth of FSU PrimaryHealth; the newfound business wisdom of alumni/practice partners Langley and Visser; and the story behind beloved anatomy instructor James Cavanagh. 
Read it on paper, read it on your screen – just read it!
To find the digital FSU MED, go to http://bit.ly/FSUMEDFall2019, or check it out in the viewer below.