Alexander becomes FAFP president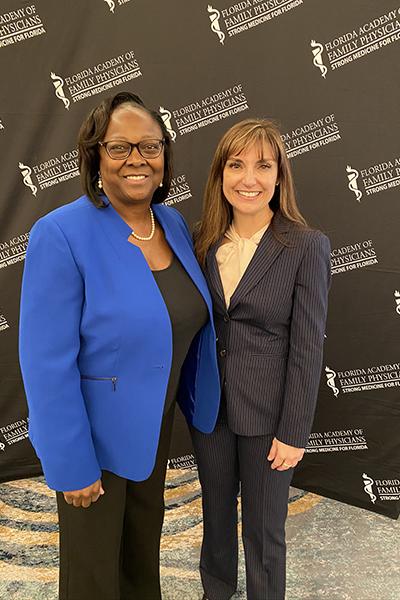 ×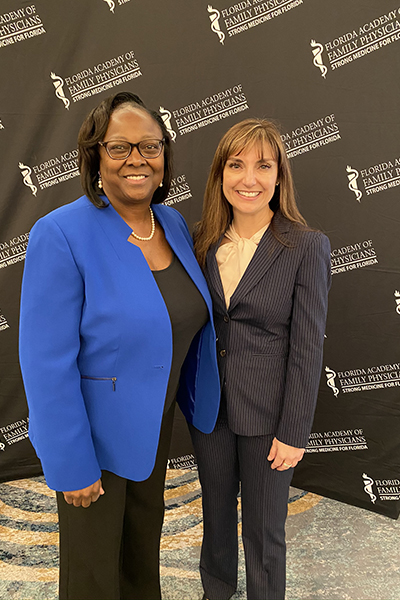 Dec. 9, 2019
For the first time, a graduate of the FSU College of Medicine is president of the Florida Academy of Family Physicians.
Christie Alexander (Class of '05) was installed Dec. 7 at the FAFP Summit on Amelia Island. 
"It's so incredible to me to be standing here before you today," Alexander, an assistant professor in the Department of Family Medicine and Rural Health, said in her first speech as president. "It's been an amazing journey."
Performing the installation was Alma Littles, the college's senior associate dean for medical education and academic affairs – herself a former FAFP president (watch a video of the installation below).
"Having watched [Alexander's] career from the very beginning, from the time she was a premed student, to her application and entry into medical school, through her residency, her early practice days, and as a colleague and faculty member at the Florida State University College of Medicine, I am extremely proud of all she has accomplished, and this is indeed a special occasion for me," Littles said moments before she installed Alexander.
Littles joined the FAFP as a medical student. Alexander jumped in during her residency. Both have been extremely active ever since.
"It's been wonderful to watch Christie mature through all those stages," Littles said the week before the installation. "Christie was a class leader at the College of Medicine and a chief resident over at Tallahassee Memorial, and when she was in private practice she got more involved in leadership through the Capital Medical Society and the Florida Medical Association, in addition to the FAFP. She's now in the delegation from the FMA to the American Medical Association. I get to interact with her in those roles, and it's been really rewarding to see her bloom as a leader.
"It's good to know that the specialty is in good hands."
Those hands will be busy. There's no shortage of vital issues awaiting the new president of this 6,500-member organization, including scope of practice; physician payment by Medicare and others; electronic health records; physician wellness; and the vaping crisis.
Alexander looks forward to the challenge.
"I strive every day to make everything I do and teach a representation of how amazing it is to be a family physician," she told the enthusiastic audience after her installation. "I strive every day to represent that well to the students and residents….
"And that leads me to the FAFP and organized medicine in general and the very reason we all need to be involved in the future of family medicine – to protect our profession – not only for our patients and for ourselves, but for all of those who will come after us…. The FAFP's motto is 'Strong Medicine for Florida,' and we are only as strong as our membership!"
Other past FAFP presidents on the College of Medicine faculty include Luckey Dunn, Dennis Mayeaux, George Smith, Cyneetha Strong and Daniel Van Durme.
OTHERS AFFILIATED WITH COLLEGE OF MEDICINE WHO WERE HONORED AT FAFP SUMMIT
Board of Directors
Officers:
Christie Alexander, M.D., president (Central Campus)
Carrie Vey, M.D., vice president (Daytona Beach Regional Campus)
Christy Cavanagh, M.D., secretary/treasurer (College of Medicine Family Medicine Residency Program at Lee Health)
Michelle Brandhorst M.D., board chair, delegate (Pensacola Regional Campus)
Board members:
George Bernardo, M.D. (Daytona Beach Regional Campus)
Danielle Carter, M.D., alternate delegate (Daytona Beach campus)
Maureen Padden, M.D.  (Pensacola Regional Campus)
Presidential Appointee:
Robert Campbell, M.D. (Central Campus)
Student directors (2019-2020):
Joseph Chen, fourth-year M.D. student (Tallahassee Regional Campus)
AAFP delegates:
Michelle Brandhorst M.D., board chair, delegate (Pensacola Regional Campus)
Alma Littles, M.D. (Central Campus)
Foundation Board of Directors
Officers:
Dennis Mayeaux, M.D., president (Pensacola Regional Campus)
Alma Littles, M.D., vice president (Central Campus)
Christy Cavanagh, M.D., secretary/treasurer (College of Medicine Family Medicine Residency Program at Lee Health)
Board members:
Christie Alexander, M.D. (Central Campus)
Michelle Brandhorst M.D. (Pensacola Regional Campus)
Danielle Carter, M.D. (Daytona Beach Regional Campus)
Carrie Vey, M.D. (Daytona Beach Regional Campus)
Award recipients
Anunporn "Tui" Srisawat, M.D., Part-Time Educator Award (Daytona Beach Regional Campus)
Danielle Carter, M.D., Young Leader Award (Daytona Beach Regional Campus)
2019 degree of fellow
Terrence Soldo, M.D. (Daytona Beach Regional Campus)
Diego Torres, M.D. (Daytona Beach Regional Campus)