VITAS Healthcare Donation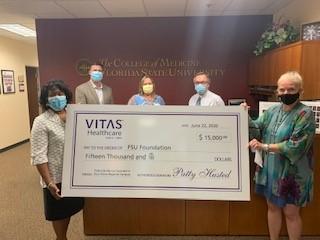 ×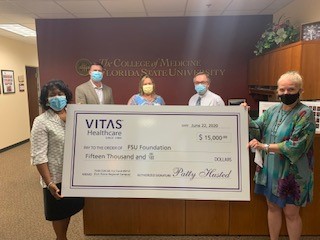 VITAS Healthcare Donation Supports Medical Student Education
July 30, 2020
A recent donation from VITAS Healthcare of the Treasure Coast will support the education of Florida State University (FSU) College of Medicine students.
Representatives from VITAS, the nation's leading provider of end of-life care, presented a donation of $15,000 to the FSU College of Medicine Fort Pierce Regional Campus. The donation will fund an educational grant supporting medical students at the Fort Pierce Regional Campus who gain palliative care experience in their geriatrics clerkship.  Many FSU students go on to practice primary care in geriatrics, family and internal medicine, pediatrics and obstetrics and gynecology.
"Communities thrive when healthcare services are made available to underserved patients. They flourish when we invest in medical education to train new generations of healthcare professionals," said Susan Acocella, VITAS general manager. "We are honored to be able to help aspiring healthcare professionals reach their goals in important, growing medical specialties."
VITAS provides hospice care to Treasure Coast patients and families throughout St. Lucie, Martin and Okeechobee counties from its offices in Stuart and Port St. Lucie.
In photo, L-R: Front row: Juliette Lomax-Homier, MD, Fort Pierce Regional Campus Dean, Susan Acocella, General Manager of VITAS Healthcare Treasure Coast. Back row: Bob Coman, VITAS Director of Market Development, Rita Gregory, VITAS Patient Care Administrator, Dr. Robert Anderson, VITAS Associate Medical Director and FSU clerkship faculty for palliative care.