Students Volunteer
Nov. 30, 2018
In June, fourth-year student Daniel Farinas Lugo volunteered to assist the Treasure Coast Seminole Club with their Seminole Sendoff event.  The club hosted local students who were heading to FSU for their freshman year of college.  Along with other local alumni, Daniel spoke with the students about his FSU undergraduate and medical school experiences.
Photo credit: Mary Ann Ketcham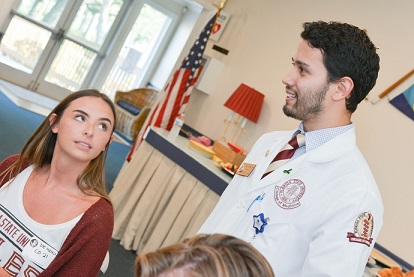 In August, several third-year students participated in a We Care dermatology clinic.  Under the direction of Dr. John McDonald, clerkship faculty for dermatology, the students assisted with providing medical care for the uninsured and underserved patients in Indian River county.
In photo, L-R: Dr. McDonald, Hansley Bobo, Jim Jin, Justine Bedolla, Gabriella Glassman, Sarah Allen