Student Philanthropy
Nov. 30, 2018
Every year, the third-year students make a donation in honor of the graduating class.  In May, the Class of 2019 collected money for an agency that teaches our students in their Community Medicine course, PATCHES Prescribed Pediatric Extended Care.  A check was presented to the organization's administrator, Gail Steward, in September.
In photo, L-R: Tiffany Smith-Sutton, Gail Steward, Sarah Ruiz, Matthew Vega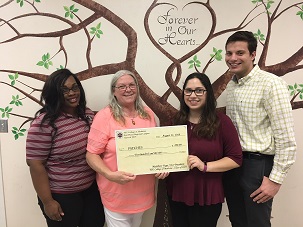 The third-year students conducted a clothing and school supplies drive in September.  They had a very successful collection of "job interview" clothing for the clients of United Against Poverty in Fort Pierce. The school supplies were donated to the Port St. Lucie pediatrics office of Florida Community Health Centers.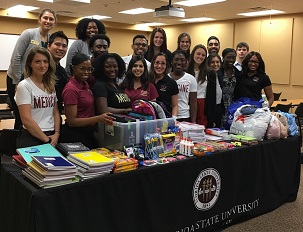 Several students and faculty participated in the Making Strides against Breast Cancer Walk in Indian River County in October.
Pictured in the photo, L-R, Front row: Kharian Burnett-Foster, Morissa Taylor, Dr. Juliette Lomax-Homier, Hansley Bobo. Back row: Aazim Arif, Cilia Nazef, Dr. Nancy Baker, Sarah Allen
In October, two third-year students who were working on the OB/GYN clerkship rotation during Hurricane Michael were inspired to conduct a drive to collect feminine hygiene products.  Kharian Burnett-Foster and Efe Cudjoe quickly raised over $200 to purchase the supplies. With the help of the campus dean, Dr. Juliette Lomax-Homier, the supplies were sent to the panhandle via a local collection center within a week of the catastrophe.