Faculty and Students Honored at Annual Event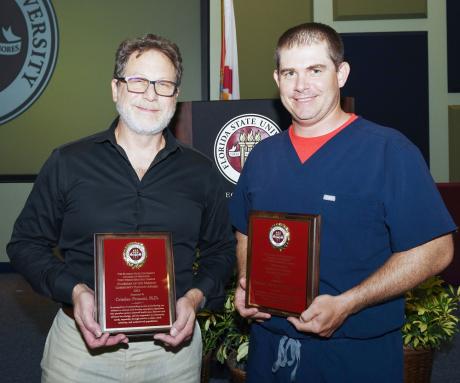 ×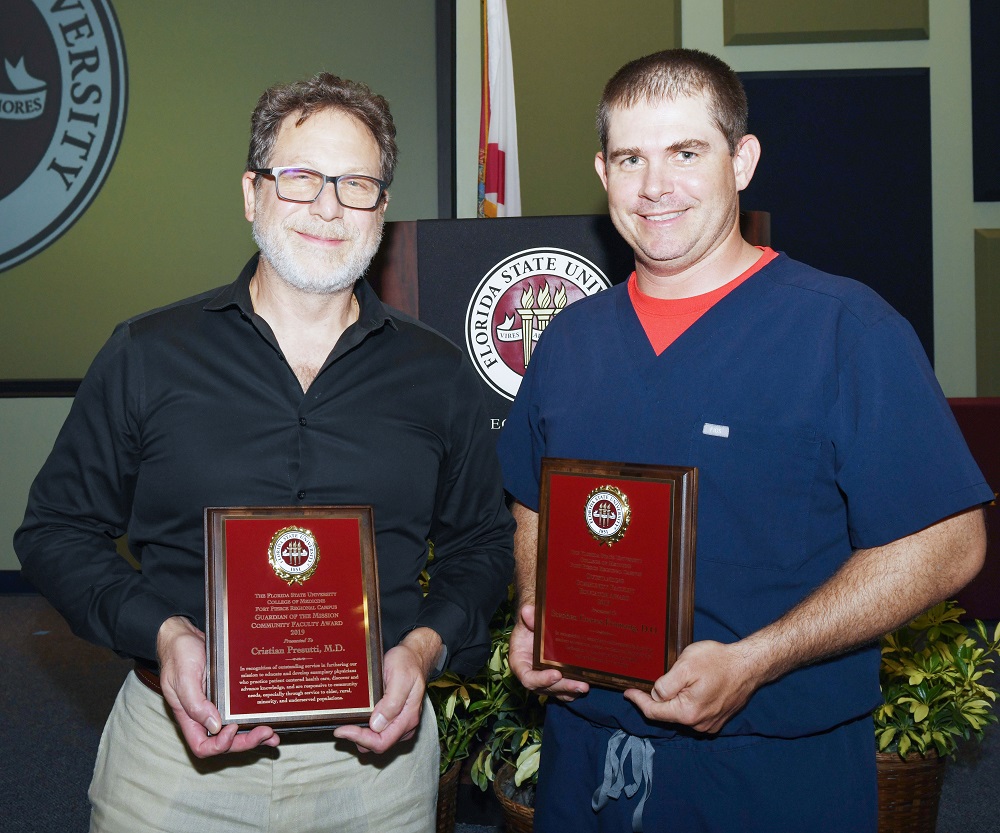 Oct. 28, 2019
Prestigious awards were presented on Sept. 18, when the Fort Pierce Regional Campus of the Florida State University College of Medicine gathered its faculty members and students for a night of appreciation and academic updates.
The event took place at the Indian River State College Public Safety Training Complex auditorium in Fort Pierce. The keynote speaker was John P. Fogarty, M.D., dean of the FSU College of Medicine, who presented an update on the achievements and ongoing success of the college. 
The regional campus faculty is composed of over 300 active Treasure Coast physicians who take turns teaching third- and fourth-year medical students and physician assistant students. The students work one-on-one with the physicians and gain clinical experience through seeing patients in the local hospitals, surgery centers, physicians' offices and other ambulatory care facilities.
Several faculty members received awards from Juliette Lomax-Homier, M.D., dean of the Fort Pierce campus. One, titled Guardian of the Mission, is for a physician whose activities have furthered the college's mission: to "educate and develop exemplary physicians who practice patient-centered health care, discover and advance knowledge and are responsive to community needs, especially through service to elder, rural, minority and underserved populations." Third-year medical student Allan Joseph presented this award to Cristian Presutti, MD, family medicine physician in Port St. Lucie.  Another award, Outstanding Community Faculty Educator, is for exemplary achievement in meeting student educational needs, working collaboratively, dedication to the curriculum principles and enthusiasm for teaching.  Morrisa Taylor, fourth-year medical student, presented this award to S. Graves Fromang, DO, emergency medicine physician for Cleveland Clinic Martin Health. (In photo at top right, Dr. Presutti and Dr. Fromang)
The final faculty awards for 2019 were presented to the dedicated clerkship faculty physicians who have taught our students since 2009.  The ten-year service award was earned by 19 physicians, and several of them were present at the event.
For the eighth year, the FSU College of Medicine Fort Pierce Regional Campus has provided four $5,000 scholarships to its medical students.  These scholarships were presented at the event, to members of the Class of 2020. One was sponsored by several donors to the Fort Pierce Regional Campus and was awarded to Efe Cudjoe.  Another scholarship, the Sai Ram scholarship, was provided by an anonymous FSU faculty member and was earned by Kimberlee Rodriguez.  A third scholarship was sponsored by Bud and Marjorie Jordan of Stuart, in honor of Heidi McNaney-Flint, M.D. It was awarded to Justine Bedolla. The fourth scholarship was donated by the Medical Executive Committee of Martin Health System, in memory of James Harrell, MD and Maghraj Thanvi, MD, and was presented by Dr. Harrell's daughter, Melinda Harrell Johnson.  It was awarded to Kharian Burnett-Foster.