Class of 2020 Awards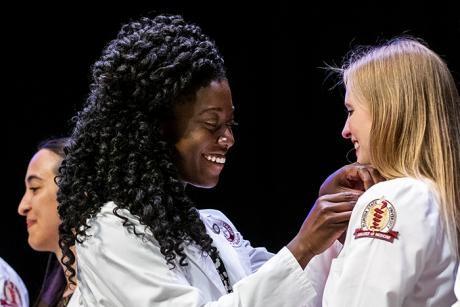 ×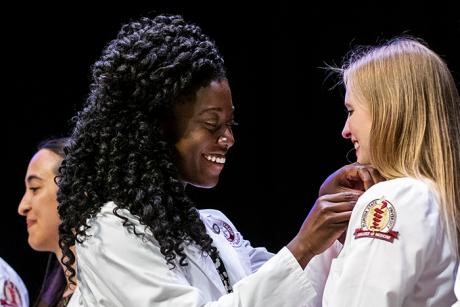 May 1, 2020
Student awards cap one-of-a-kind year
Even though the coronavirus pandemic upended routines around the world, it didn't keep the Class of 2020 from wrapping up a successful fourth year. Nor did it interrupt the tradition of year-end awards.
A total of 41 students finished with at least one honor inscribed beside their names in the Class of 2020 archives. Those honors include College of Medicine awards, specialty awards, regional campus awards and honor society inductions (which, as always, were announced earlier).
Leading the class, with six recognitions each, were Fort Pierce campus student Efe Cudjoe and Pensacola campus student Ally Davis (pictured right).
Though there was no auditorium ceremony because of the efforts to minimize the spread of the virus, the awards were as coveted as ever. Honorees' names will be included in the graduation program and on plaques positioned around the College of Medicine.
"This year's awards are even a bigger badge of honor than usual," said Dean John P. Fogarty. "The students, faculty and staff here soldiered on to complete the year against all odds, and reinvented the traditions associated with graduation. And now this entire class is prepared to enter the medical workforce when the world needs them more than ever. I couldn't be prouder of them."
Efe Cudjoe received the American Congress of Obstetricians & Gynecologists District XII Outstanding Medical Student Achievement Award, the Nobles/Brown Altruism in Medicine Award, the American Medical Women's Association Glasgow-Rubin Achievement Citation, and membership in the Alpha Omega Alpha Honor Medical Society and the Gold Humanism Honor Society.
Another Fort Pierce campus student, Kharian Burnett-Foster, was awarded the Robin McDougall Access to Care Award and the Merritt Ryals Clements, M.D., Award for Excellence in Obstetrics and Gynecology.
Their virtual graduation ceremony is set for May 16.