Dr. Hogans-Mathews Receives the Outstanding Junior Faculty Educator Award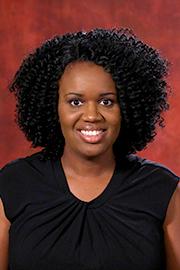 ×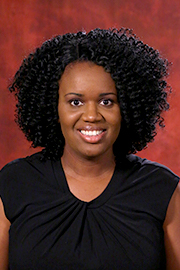 Dr. Shermeeka Hogans-Mathews, was presented the Outstanding Junior Faculty Educator Award at the Annual College of Medicine Full Faculty and Staff Awards Program held Monday, November 9, 2020.
This award recognizes the College of Medicine's faculty member that demonstrates outstanding teaching as evidenced by any or all of the following:
Consistent dedication to the six (6) COM principles of the curriculum
Commitment to continuous quality improvement in a course and/or in their teaching
Consistent efforts to incorporate education innovation
Consistent dedication to identifying and meeting the educational needs of students
Consistent enthusiasm for teaching
Willingness to work collaboratively with other course directors/faculty in delivering the COM's curriculum to students.
The recipient must be a full-time College of Medicine faculty member at the rank of Assistant Professor or Instructor.
Dr. Hogans-Mathews contributions to the COM include, but are not limited to:
valued BRIDGE mentor to several students
designed and facilitated BRIDGE study skills seminars
developed new curricular modules for both M1 and M2
designed M2 CLC on Study Skills and Test Anxiety: USMLE Step 1: Setting the foundation for success
created and facilitated E.X.C.I.T.E. (Exploratory Colloquium in Treatment/Therapeutics and Education) for faculty training for DFMRH
developed study curriculum for Family Medicine Boards for DFMRH faculty.
Dr. Hogans-Mathews success was further highlighted by one of her award nominators that stated, "Dr. Hogans-Mathews has always had an enthusiastic approach to teaching and mentoring students. This is evident from the requests they get to sit on various committees, teach on special topics, and serve as a mentor to many medical students. She is a strong team player and always seeks opportunities to enhance the student learning experience inside and outside the classroom and clinical learning environment."