Florida State University College of Medicine: From Ideas to Outcomes
×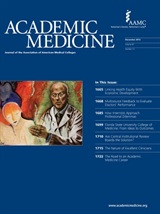 In an article published in Academic Medicine, Fogarty, Littles, Romrell, Watson, & Hurt (2012) discuss FSU's unique clinical training model, student outcomes, the recent LCME reaccreditation, present success, and future challenges. It is a must-read for anyone in the FSU COM community. 
Click here to access the article. 
Please note: If you are accessing the above link from an off-campus location, you should first log-in to the FSU COM EzProxy.