Indigenous Health Initiative Fundraiser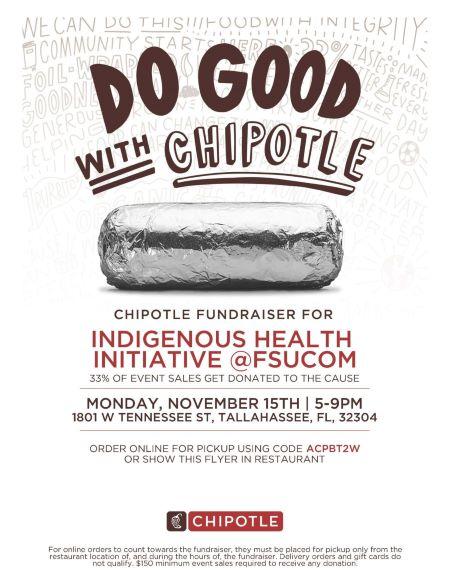 ×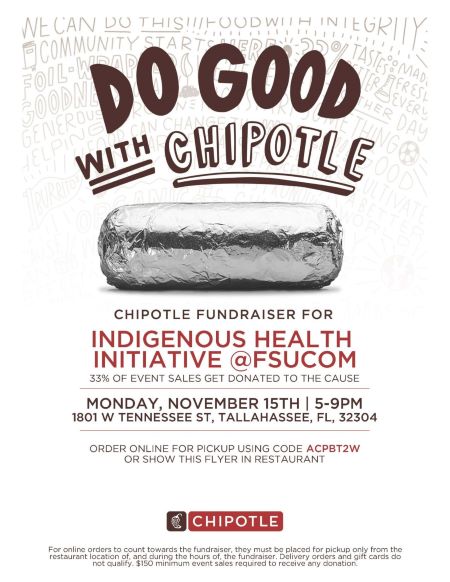 We would like to invite you all to participate in an exciting fundraiser for the Indigenous Health Initiative! One of the goals of the initiative is to distribute books written by Indigenous authors to school-age children across Florida and to undergraduate students at FSU. We hope to increase awareness about Indigenous history and the experiences of Indigenous populations in the next generation.
In order to raise funds for the book drive, we are hosting a Chipotle Share-It Night on Monday, November 15th 5-9pm. On this day and time, 33% of proceeds will go towards the fundraiser. We need to raise a minimum of $150 in order to receive donations, so we are counting on the FSUCOM community to make it happen. This event will be held at the Chipotle right by FSUCOM; the following is the address: 1801 W TENNESSEE ST, Tallahassee, FL 32304.
It is VERY important that the orders are purchased/picked up ONLY during the time/date of the fundraiser and only from the Chipotle location provided above.
There are two ways to place orders:
In person on November 15th from 5-9 pm at the Chipotle on 1801 W Tennessee St.  

NEED to show the flyer at the register in order for it to count toward our fundraiser.

Online order pick up from the same location on November 15th from 5-9 pm

For online orders you must use the following promo code at check out:  

ACPBT2W

  in order for your purchase to count toward our fundraiser.
Online orders can only be made the day of the event and need to be picked up during the 5-9 pm time frame in order for it to count toward our fundraiser.