Distinguished Alumni Awards 2018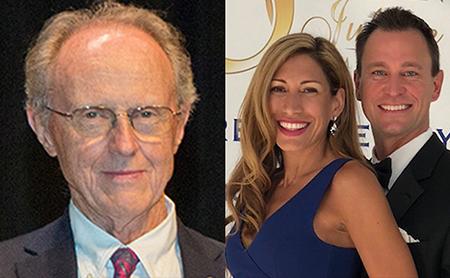 ×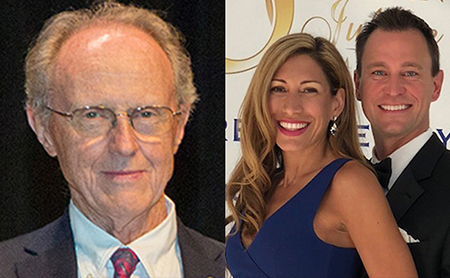 This is the text that Dean John P. Fogarty used to announce the Distinguished Alumni Awards at the White Coat Ceremony for the M.D. Class of 2022 on Aug. 10, 2018.
Before FSU had a four-year medical school, it had a one-year program called PIMS – the Program in Medical Sciences. Like our med school today, it was student-centered and stressed primary care, serving the underserved, and a diverse health-care workforce. It often took students who wouldn't have been accepted at a traditional medical school.
By his own admission, Stephen Cummings was a real long shot. He'd been in international relations, including 10 years in Vietnam. He'd been an advisor on refugees, health, education and welfare. But he had a dream of becoming an M.D. Long story short: He got into PIMS, he became a physician, and life went on. Later, he wanted to combine family medicine with his long-term interest in Vietnam. Long story short again: In 1995, he and a former residency partner applied for a grant that changed his life. And in 2015, Dr. Cummings received a prestigious award from the Society of Teachers of Family Medicine "for furthering the development of family medicine education throughout the world." Big deal, huh?
Dr. Cummings, with this plaque we're stating that we're proud of the way in which you've embodied the mission of this school. Congratulations.
Will Dr. Matt Lee please join me?

Actually, Matt's wife, Stephanie, is also being honored, but she had a scheduling conflict. No, it wasn't a patient emergency or a medical conference. It was a Taylor Swift concert in Atlanta – and they already had tickets – so that's where Stephanie and their daughters are right now. We wish them well!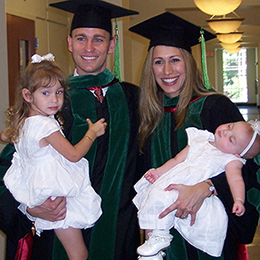 Stephanie and Matt not only began their professional lives at the College of Medicine – but, as you can see from this photo … they also began their family here! Now the parents of four, they both did their residencies at UF Health in Jacksonville, and Matt did a fellowship at Johns Hopkins – but they came back to Tallahassee to practice. Matt is an orthopedic surgeon at Tallahassee Orthopedic Clinic, and Stephanie opened an OB-GYN office called Elite Women's Health.
Yet somehow they manage, over and over, to give time, money and expertise to this school and our students. They're on our faculty. They're on our FSU Medical Alumni board. They help gather donations of clothing and toys for migrant families in Quincy. They support fundraisers at the Tallahassee Regional Campus. And they've created an endowment especially for medical students who are parents.

As a small token of our appreciation, each of them is receiving a plaque recognizing their continuing, enthusiastic support of our students and programs. Thank you, Stephanie and Matt.