2017 OneFlorida Annual Stakeholder Meeting Highlights
Jan 26, 2017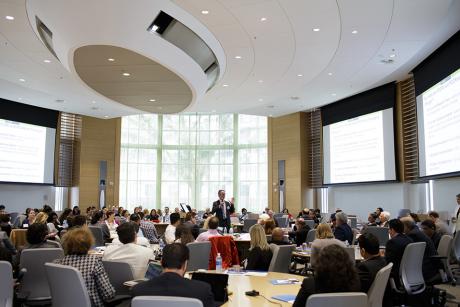 More than 200 researchers, clinicians and other stakeholders from across the state convened for the OneFlorida Clinical Research Consortium's third Annual Stakeholder Meeting on January 26, 2017 at the University of Florida's College of Medicine in Gainesville. Partners gathered to focus on developing the research infrastructure required to address today's complex health care needs, and to continue building and improving access to the consortium's Practice-Based Research Network and OneFlorida Data Trust.
Among the roster of attendees were Celeste Philip, M.D., MPH, interim surgeon general and secretary for the Florida Department of Health, and keynote speaker Joe Selby, M.D., MPH, executive director of the Patient-Centered Outcomes Research Institute (PCORI) in Washington, D.C.
In his introductory remarks, David Nelson, M.D., director of the University of Florida Clinical and Translational Science Institute (UF CTSI), co-chair of the OneFlorida Steering Committee and a member of the OneFlorida Executive Committee, credited the stakeholders and consortium partners with successfully collaborating to develop a 10-million patient infrastructure that promises to streamline clinical research and improve health outcomes for patients in Florida and nationwide.
In his keynote address, "Building Clinical Infrastructure," PCORI Executive Director Joe Selby said that the current clinical research system is too slow, too expensive, and doesn't answer questions that matter most to patients.