With new Ph.D. in hand, Hurwitz returns to M.D. track
Apr 04, 2017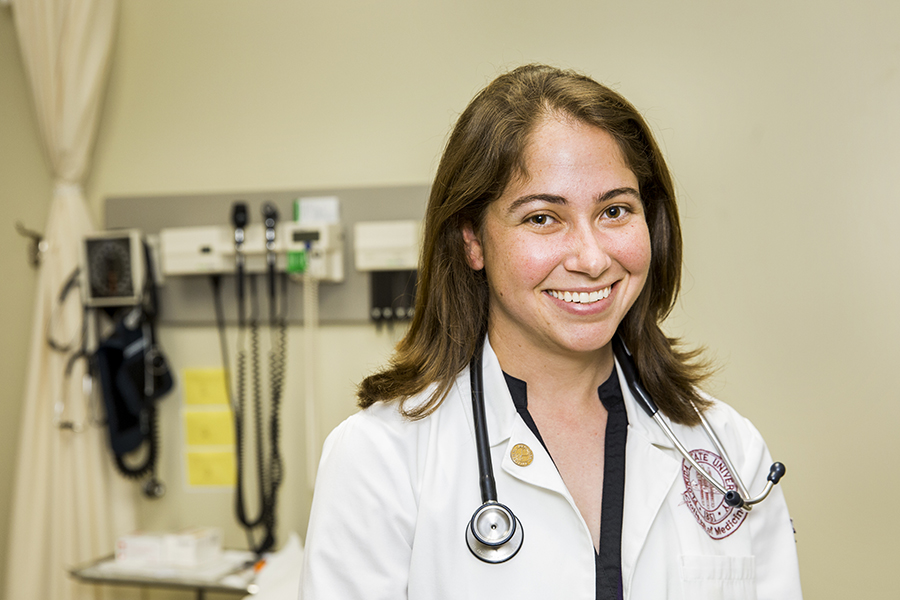 Stephanie Hurwitz is not the first FSU med student to be torn between a love for clinical medicine and a passion for biomedical research. But she's the first who officially chose both.
Halfway down the road to her M.D., she paused to go after her Ph.D. – which she completed in the nearly unheard-of span of only two years. Next month, she'll resume her M.D. studies when she reports to the Sarasota Regional Campus – no longer part of the Class of 2017, but now part of the Class of 2019.
Her time management and laser focus are what you'd expect in the College of Medicine's first M.D./Ph.D. student. They're also among the attributes that last month earned her a P.E.O. Scholar Award – a competitive, merit-based recognition for women from the U.S. and Canada who are pursuing a doctoral-level degree. In all, 738 women were nominated, and 100 selected.
"Ms. Hurwitz is an exceptionally diligent, reliable and careful member of the lab… [who] has become a master in many sophisticated research techniques," James Olcese, one of her Department of Biomedical Sciences mentors, wrote in a letter nominating her.
Hurwitz's dual-degree feat has been an adventure for everyone involved.

"I had my doubts," admitted Senior Associate Dean Myra Hurt, who served on Hurwitz's doctoral committee. "Not about Stephanie but about the process. Would it actually work for her?"
Hurt, a longtime researcher, knows that cells under a microscope blithely ignore human timetables. Two years can easily turn into five or six, with no guarantee of success.
"It was almost astounding to see how well it all came together," Hurt said. "She's done something she can be very proud of."
Some universities offer formal M.D./Ph.D. programs. But Hurwitz, who studied neuroscience as a premed and worked in a research lab for three years, thought she'd be a med student who merely dabbled in research. As it turned out, dabbling wasn't enough.
"I wasn't completely satisfied with reading textbooks and memorizing things that were already known," she said. "I enjoy the challenge of asking scientific questions and being able to design experiments that answer those questions."
She started working in Assistant Professor David Meckes' lab in 2014, the summer after her first year of med school. Many summer researchers leave the lab behind when fall arrives. Not this one.
"I kept working in the lab 15 to 20 hours a week during my second year of medical school," she said. "Eventually David asked, 'When are you going to leave?' And I said, 'When you kick me out.'"
The Meckes lab works primarily on exosomes, small vesicles that all cells secrete, containing proteins, lipids and nucleic acids. Hurwitz and her lab colleagues are identifying the contents of those exosomes and how they're made. The hope is to identify novel biomarkers that may be secreted from cancer cells. In other words, eventually a simple blood test might be able to tell your doctor that you have a certain type of cancer.
Meckes' lab was a good fit for her.
"They needed people to step up and take over projects that had been started," Hurwitz said. "And David's a young, enthusiastic scientist who's extremely hard-working and has high expectations."
Eventually, she and Meckes sat down with the directors of the graduate program to explore the possibilities of designing a dual degree. It took her a full year to make that decision.
"Stephanie is the type of graduate student every professor hopes for," Meckes said. "She is hard-working, motivated and passionate about science and discovery. As my first graduate student to complete their dissertation, she has been absolutely instrumental in getting my research program up and going at FSU."
Now that Hurwitz's leave from medical school is ending, she's ready to re-enter the world of patient histories and stethoscopes. She's been preparing.
"Stephanie was concerned about her lack of clinical exposure while she was doing her research and came to me in search of some clinical time," said Karen Myers, assistant professor of family medicine. "We worked out a shadowing experience for her to keep her skills on par with her peers. She quickly got back into the swing of things. She established rapport with patients from a variety of backgrounds."
Other faculty members to whom Hurwitz is grateful are Professor Mike Overton, former director of the graduate program; Chris Leadem, associate dean for student affairs; Richard Nowakowski, chair of the Department of Biomedical Sciences; and Olcese, who opened the door to that P.E.O. Scholar Award. The honor includes a $15,000 stipend, which Hurwitz said will certainly help with medical school tuition next year.
Next stop: Sarasota on May 22. Well, no – first there's Toronto, May 18-21, where she's presenting her research at the International Society for Extracellular Vesicles annual meeting. Stephanie Hurwitz's double life continues.