Seniors & Caregivers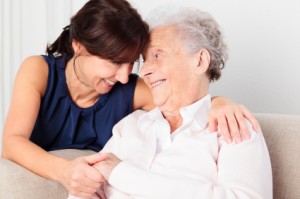 Information for Family Caregivers
Powerful Tools for Caregivers (PTC) is a nationally recognized self-care education program offered through the NCF-GWEP's community partners. The class series meets for 90 minutes once a week for 6 weeks. PTC gives caregivers the tools to reduce personal stress, better communicate feelings, improve self-confidence, and more!  The program is designed for caregivers' personal health. It does not teach caregiving skills but rather how to take care of oneself while facing the unique challenges of being a family caregiver. 
Please click on the link here to view our YouTube video explaining what the Powerful Tools for Caregiver program provides for caregivers. Please contact the NCF-GWEP Coordinator for more information about workshops being held in your area of Florida. 
Also, check out the Family Caregiver Alliance website. This nonprofit's site offers health issue or condition specific educational materials and information about common caregiving concerns and strategies. Caregiver College offers online training videos for caregiving skills such as how to assist with bathing, transferring, and more at their YouTube Channel.  UCLA Alzheimer's and Dementia Care Program has a large video library to help caregivers understand how to better care for persons with dementia. The videos cover a range of topics including repetitive questions, refusal to bathe, wandering, and lack of eating. 
African-American Alzheimer's Caregiver Training and Support (ACTS 2) is a faith-based, skills-building and support program designed to meet the needs of distressed family caregivers of older adults with dementia. ACTS 2 consists of 12 sessions, 7 group sessions and 5 individual sessions, delivered over the telephone in the homes of family caregivers. ACTS 2 sessions are led by trained, lay pastoral care facilitators from the African-American faith community. Caregivers of persons with dementia have the opportunity to share their challenges and concerns with other family caregivers, and set goals for improving their own life and health situation as well as that of their loved one. Please visit the FAQ for more information on support sessions, and enrollment in ACTS 2 caregiver training program.
---
Information for Older Adult Patients 

Handouts are provided here to help you better understand your health. Consider printing these and using them to discuss your health concerns with your health care provider.
Brain Health
Warning Signs of Dementia (Obtained from the Alzheimer's Assocation)
Falls Prevention
Fall Risk Checklist and Chair Rise Exercise (Obtained from the Centers for Disease Control and Prevention)
Taking Care of Your Heart
Warning Signs and Checklist (Adapted from the American Heart Association)
Getting Your Affairs in Order (Advance Care Planning)
Words to Know and Discussion Points 
Preventing Opioid Misuse and Abuse
Know Your Rights Risks and Responsibilities (Obtained from Allied Against Opioid Abuse)
---
Additional Local, Statewide, and National Resources
The Osher Lifelong Learning Institute campus at Florida State University in Tallahassee, FL offers a variety of classes for older adults. The FSU COM Department of Geriatrics faculty have delivered a variety of interesting talks related to optimal aging. Please see link to presentations here.

The Area Agency on Aging is a resource about the planning for aging issues and administers programs for seniors and caregivers.
The Florida Department of Elder Affairs website holds valuable information about geriatric health topics and resources available for elders.
Information about the Older Americans Act can be found at this website.
The Alzheimer's Project has complied a list of Alzheimer's support groups in Tallahassee and surrounding areas with various meeting times. 
The National Alliance for Caring provides information about caregiver advocacy and research facts about caregivers.
The International Alliance of Carer Organization provides caregiver facts from around the world to bring awareness of the importance of caregivers in our health care and social service systems.