Designated Institutional Official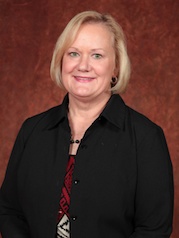 Dr. Joan Younger Meek is a Professor in the Department of Clinical Sciences, and serves as the Associate Dean for Graduate Medical Education and the Designated Institutional Official for the Florida State University College of Medicine. In these roles, she oversees the FSU College of Medicine sponsored residency and fellowship programs and collaborates with the clinical training sites at which these programs are conducted. She chairs the FSU College of Medicine Graduate Medical Education Committee. She completed the Association of American Medical Colleges Graduate Medical Education Leadership Development Course in 2013.
For more than twenty years, Dr. Meek served on the teaching faculty of the Pediatric Residency Program at Orlando Health/Arnold Palmer Hospital for Children, where she was the Program Director from 2004 to 2012. She was the Pediatric Clerkship Director for the Orlando Campus of the FSU College of Medicine for more than a decade. Throughout her professional career, Dr. Meek has been actively involved in resident and medical student education.
In addition to being a board certified pediatrician, Dr. Meek is a Registered Dietitian (RD) and an International Board Certified Lactation Consultant (IBCLC). She previously served on active duty as a pediatrician in the U.S. Army Medical Corps. Her clinical interests include infant and pediatric nutrition, human lactation and breastfeeding support, and newborn care.
Dr. Meek is excited to lead Graduate Medical Education at the FSU College of Medicine, working with the College of Medicine administration, GME staff, program directors, faculty, and residents and fellows. Dr. Meek is committed to helping our trainees develop the knowledge, skills and competencies to practice evidence-based medicine in a patient-centered environment, to develop and disseminate new knowledge, and to become leaders in enhancing health care quality and patient safety efforts in their clinical practices and hospitals.
View Dr. Meek's Profile.