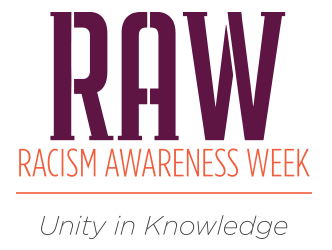 Since 2017, students at the FSU College of Medicine have been proud to host the annual Racism Awareness Week (RAW) highlighting themes surrounding racial disparities, injustice, and inequalities, while relating these issues to the realm of medicine and healthcare. It is our intention to build a dialogue around these concerns, to raise awareness into current racial issues, and most importantly, to stimulate impactful changes in building empathy and progress in our communities. Throughout the week, we host a variety of speakers and interactive events delving into an array of topics centering on themes of race.
History of RAW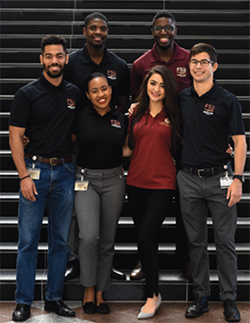 Racism Awareness Week was organized by a group of medical students who were concerned with "racial flares" and wanted to have conversations regarding racism and its impact in medicine as they were "unsure how to be change agents." They hoped that RAW would provide fellow students with the tools to understand how racism affects their future patients and likely themselves.
2017 (Original RAW) Committee Members
Front Row (L-R): Michael Morgan, Zadeena Fisher, Nadia Akhiyat + Acton Pifer
Back Row (L-R): Bruno Gay + Eric Walker
---
This Year's Events
Check back for more updates and additions
RAW 2021 Schedule
Mon (01/11/21)
A: 12-12:50P
B: 7-8p

Tues (01/12/21)
7-8:30P

Wed (01/13/21)
12-12:50P

Thurs (01/14/21)
12-12:50P

Fri (01/15/21)
12-12:50P

Year in Review:
A: Health Disparities & COVID-19

---

B: Racial Injustices & Current Events

 

Elitism & Allyship

Racism We Don't See (Immigration)

Grand Rounds

The Intersection Between Racism and Mental Health

A: Virtual | Zoom ID: 950 9915 4808

 
PRIZES!!! All student attendees will be included in a raffle for prizes, gift cards and other goodies from a variety of generous local and black-owned businesses. This year's sponsors include:
Dope Scrubs
FIGS
Gaines Street Pies
Madison Social
Codex Anatomicus



Event Details
*details are subject to change, please check back often
Year in Review: Health Disparities & COVID-19

Monday (01/11/21) 12PM-12:50PM

A: Virtual | Zoom ID: 950 9915 4808

Description: The discussion will center on civil unrest and racial inequality issues presented throughout 2020. Perspectives in healthcare and the law system combine to give a multidimensional look at race in America.

Speakers:

Dr. Bernard Ashby was born and raised in South Florida. He is board-certified in internal medicine, cardiology, vascular medicine, vascular interpretation, and nuclear cardiology. He was appointed clinical professor of medicine at Columbia University and served as the director of vascular cardiology at Mount Sinai Medical Center prior to opening Comprehensive Vascular Care. Currently, Dr. Ashby is an Associate Professor at Florida International University and makes frequent media appearances on local, national, and international media outlets as a medical expert and health policy analyst.

---

Derek A. Keaton is a 2019 graduate of the University of Virginia Law School and 2016 graduate of Florida A&M University. He is an attorney at Sullivan & Cromwell LLC in New York.
Year in Review: Racial Injustices & Current Events

Monday (01/11/21) 7PM-8PM

Virtual | Zoom ID: 913 0193 2736

Description: Two antiracism student advocates will lead a video-based discussion on race and medicine in 2020's protests and movements.

Speakers:

 

Taiwo Alonge is a senior medical student and MPH candidate at Columbia University Vagelos College of Physicians and Surgeons. He is applying for residency in psychiatry this fall and has interests in child and adolescent psychiatry, public health and public policy, and health equity.

 

---

Zoë Mitchell is a third year business administration student in Tallahassee, Florida. Her past leadership experiences include serving in the FAMU Student senate as first seat senator, student relations committee chairperson and Senate President Pro Tempore. Zoe's activism began when she was a junior at Chiles High School where she spoke out against racial intimidation. Since then she has spoken at several protests and panels regarding social and racial justice both within the Tallahassee community and across the country.
Elitism & Allyship

Tues (01/12/21)) 7PM-8:30PM

Virtual | Zoom ID: 928 0495 1121

Description:A panel of four professionals from a variety of backgrounds will speak on how they still face racism despite their degrees, professional successes, and numerous accolades. They will also share their thoughts on the civil rights movement this year, and how we can become allies for minority individuals.

Speakers:

Dr. Lomax-Homier, MD is an OBGYN & Campus Dean for FSU College of Medicine's Fort Pierce regional campus. She received her medical degree from Boston University School of Medicine and completed her residency with Boston University's OBGYN residency program.

 

---

Dr. Jemaar Graham is an artist & Podiatrist in Sarasota, Florida. Dr. Graham has been working on an art project called "The Great Awakening," capturing how the recent civil rights movement has encouraged many white folks to finally wake up and become aware of the racism embedded in the United States.

 

---

Dr. Tyra Dark, Ph.D is a researcher at FSU COM. Her research focuses on the comorbidities of mental illness and cardiometabolic syndrome, identifying how care is delivered to this population to uncover potential contributors of racial/ethnic disparities that can inform future policy or other health care delivery interventions to improve outcomes and reduce observed disparities.

---

Dr. Jimmy Moss Jnr., MD is a triple Board certified physician in Internal Medicine, Anesthesiology, and Critical Care medicine. He earned his MD from FSU COM in 2010. He then completed his residency in Internal Medicine and Anesthesiology from Mayo Clinic in Jacksonville, FL in 2016. In 2017, Dr. Moss Jnr. completed a fellowship at Harvard Medical School, Massachusetts General Hospital in critical care medicine. Dr. Moss Jnr. currently practices in the St. Louis, Missouri and Illinois metropolitan area. He is affiliated with many hospitals such as St. Elizabeth's Hospital, The Carle Foundation Hospital, and St. Joseph's Hospital. In addition, he works as an attending for Washington University of St. Louis within their Anesthesiology and Critical Care departments. One of Dr. Moss' passions is striving daily to be a better person in order to become a better physician.
Trauma Informed Care in Primary Care Settings

Wednesday (01/13/21) 12PM-12:50PM

Virtual | Zoom ID: 960 3736 4740

Description: A case-based presentation highlighting the challenges that immigrants face in the United States and how that plays a role in receiving primary care. Dr. Rosado will demonstrate how to assess trauma in the clinic and the impact it has on patients' lives.

Speakers:

Dr. Rosado is a Florida licensed psychologist with specialties in pediatric psychology, clinical health psychology and integrated care. He has vast experience working within Primary Care settings and serving children from Latino migrant farm-working families. Dr. Rosado is the founding Director of Clinical Research for the FSU Center for Child Stress & Health – a partner in SAMHSA'S National Child Traumatic Stress Network. Dr. Rosado holds a PhD degree from The Florida State University in Counseling Psychology and Human Systems. During his doctoral education, he interned at the Yale University Medical School, where he completed a pre-doctoral Internship training program in Clinical and Community Psychology. He currently leads several multidisciplinary intervention programs around childhood and adolescent obesity as well as intervention programs to address toxic stress and early childhood trauma. Dr. Rosado's work has been funded by the Robert Wood Johnson Foundation and has been published in the American Journal of Preventive Medicine. Dr. Rosado is a Clinical Associate Professor and serves as the Director of Clinical Research for the FSU Center for Child Stress and Health located at the Immokalee Health Education Site.
Grand Rounds:

Thursday (01/14/21) 12PM-12:50PM

Virtual | Zoom ID: 946 2327 4351

Description: Dr. Susan Rogers is an educator whose career is filled with numerous awards, leadership positions, and accolades. She has focused her career on the importance of health equity and the right to healthcare for all. Dr. Rogers will discuss why we have racial health inequities, from a historical perspective.

Speakers:

Dr. Susan Rogers, president of Physicians for a National Health Program, is recently retired from Stroger Hospital of Cook County, but continues as a volunteer attending hospitalist and internist there. While at Stroger Hospital, she was co-director of medical student programs for the Department of Medicine and received numerous teaching awards from medical students and residents. She is an Assistant Professor of Medicine at Rush University, where she continues to be an active member of the Committee of Admissions.

Dr. Rogers received her medical degree from the University of Illinois College of Medicine and completed her residency at Cook County Hospital, where she served an additional year as Chief Resident. She is a national board member of Physicians for a National Health Program and a past co-president of Health Care for All Illinois. She previously was Medical Director of the Near North Health Service Corp, a FQHC in Chicago, and remained on their board for many years after she left her directorship there. Dr. Rogers is a Fellow of the American College of Physicians, and a member of the National Medical Association.
The Intersection Between Racism and Mental Health

Friday (01/15/21) 12PM-12:50PM

Virtual | Zoom ID: 924 8811 3311

Description: Exploring the impact that systemic racism, microaggressions, and overt racism has on the mental health of medical professionals and ways to address these issues and alleviate them to improve quality of life.

Speakers:

Dr. Laura Reid Marks is an assistant professor in counseling psychology in the APA-accredited combined counseling and school psychology doctoral program at Florida State University. She is originally from Kingston, Jamaica and immigrated to the US in 1999. She graduated with a Bachelor's Degree in Psychology and Masters and Education Specialist degrees in Counseling (CACREP-accredited) from the University of Florida. She received her Doctorate at Purdue University and completed her Pre-Doctoral Internship at Arizona State University Counseling Services (APA-accredited). From Arizona, she accepted an Assistant Professor position at the University of Memphis in their APA-accredited Counseling Psychology Program before returning to Florida. Dr. Reid Marks is currently conducting research on the impact of discrimination and microaggressions on mental health among minority individuals.

---

Speakers:

Dr. Keino Miller earned his doctorate in Counseling Psychology from Indiana University Bloomington with a specialization in Sport and Performance Psychology. He is licensed in both Louisiana and Florida. Dr. Miller completed his Sport Psychology fellowship at NC State after an internship with the Psychological Resources office for OU Student-Athletes (OK).

Dr. Miller has over 10 years of experience serving athletes, high achieving individuals, couples and families. He is proficient in the administration of comprehensive clinical assessments, treatment planning, and culturally responsive mental health services.

Dr. Miller also works with clients to address a variety of concerns including depression, anxiety, motivation, trauma, relationship issues, identity development, career challenges, and performance issues. His counseling approach combines cognitive-behavioral, person-centered, and solution-focused therapies. He offers a holistic and restorative practice and believes in working collaboratively with clients to meet their unique and specific needs.

As a former Division I athlete, Dr. Miller understands the reality of transition and retirement. This has been a focus of his recent practice, having worked with current and retired professionals and their families. Throughout his career he continues to be a staunch advocate for his clients, working to establish programming and coalitions designed to empower marginalized and underserved individuals and communities. Away from the office he enjoys traveling with family and friends, relaxing at the nearest beach, watching Sci-Fi movies, or simply catching up on reading. Dr. Miller is a returnee to the state of Florida with family roots in Texas, Louisiana, and the Carolinas.
Additional Resources/Links
FSU Counseling Services
Fundraiser Information
We are hosting a fundraiser in which all profits will be donated to minority-focused organizations listed below. Options to donate to the RAW 2021 fundraiser:
T-Shirt Sale via Bonfire

Please explore the various custom clothing options designed for Racism Awareness Week.

Direct donation via Venmo to @RAW2021
Organizations we will be donating to:
Dream Defenders
The Dream Defenders was founded in April 2012 after the tragic killing of 17-year old Trayvon Martin by George Zimmerman in Sanford, Florida. That Spring, young Black, Latinx, and Arab youth marched from Daytona Beach Florida to Sanford Florida where Trayvon Martin was killed. With that fire in their bellies, they then went back to their communities and campuses to organize. Today, the Dream Defenders is organizing Black and Brown youth to build power in our communities to advance a new vision we have for the state. Our agenda is called the Freedom Papers. Through it, we are advancing our vision of safety and security – away from prisons, deportation, and war – and towards healthcare, housing, jobs and movement for all.
The National Urban League
The National Urban League is a historic civil rights and urban advocacy organization with 90 affiliates serving 300 communities, providing direct services that impact and improve the lives of more than two million people nationwide.
Coalition of Immokalee Workers
The Coalition of Immokalee Workers (CIW) is a worker-based human rights organization internationally recognized for its achievements in fighting human trafficking and gender-based violence at work. The CIW is also recognized for pioneering the design and development of the Worker-driven Social Responsibility paradigm, a worker-led, market-enforced approach to the protection of human rights in corporate supply chains.
Social Media
Look for us on our following social media platforms for up to date information of our 2021 events!
Instagram: @fsucom
Facebook: @FSUCollegeofMedicine
Continued Education
BLM Resources by FSU College of Medicine's Council of Diversity and Inclusion
Books
More resources available at the Charlotte Edwards Maguire Medical Library
Videos/Movies/Documentaries
13TH by Ava DuVernay - "Thought-provoking documentary, scholars, activists, and politicians analyze the criminalization of African Americans and the U.S. prison boom."
Podcasts
The Diversity Gap by Kayla Stagnaro & Bethany Wilkinson
Contact/Feedback
We'd love to hear from you. Please provide any feedback about the week's events or suggestions regarding what you would like to hear more about in future RAW events.
Thank you to the members of the RAW committee & our sponsors for making these events possible.
RAW 2021 Co-Chair Contact Information: