Behavioral Health Referrals and Resources
Community Resources: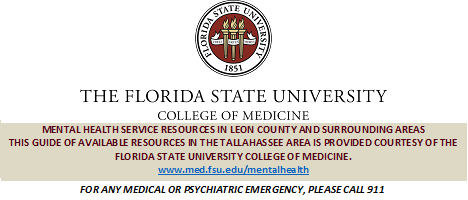 Online Mental Health Resource Guide
We have developed and maintain an online listing of mental health and social service providers in Tallahassee and the surrounding areas to assist local clinicians with making appropriate referrals for their patients. This list is searchable by both providers' specialty and also the insurace that they accept in order to ensure that patients' complex healthcare needs are met in a personalized manner that best fits their situation. The list is also available to the public and has links for mental health and social service proviers to request an update of their informaiton or to be added into the list if they are not already included. 
You can visit the site: mentalHealth